I bought a pound of dried black beans several weeks ago, figuring they'd be good to have on hand in the pantry. Tonight I cooked them in this sweet and tangy dish. This recipe rocks my world! It's easy, inexpensive, filling and delicious. Nice!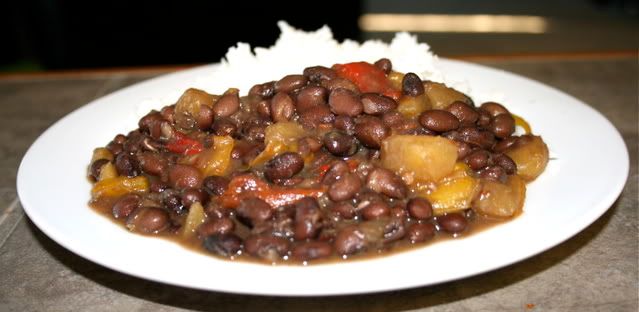 Jamaican Black Bean Pot
1 lb dried black beans
1 small onion, quartered
2 cloves garlic
1 bay leaf
1 tsp salt
2 Tbsp vegetable oil
1 large onion, chopped
1 clove garlic, minced
1 tsp mustard powder
1 Tbsp molasses
2 Tbsp dark brown sugar
1 tsp dried thyme
1/2 tsp crushed red pepper
1 red bell pepper, seeded and diced
1 yellow bell pepper, seeded and diced
2 cups butternut squash or pumpkin, seeded and diced in a 1/2-inch dice
salt and pepper
4 cups cooked white rice
Soak the beans overnight. Drain and rinse well. Place in a large saucepan, cover with fresh water, and add the onion, garlic and bay leaf. Bring to a boil, then boil rapidly for 10 minutes. Reduce heat, cover and simmer for 30 minutes. Drain, reserving the cooking liquid.
Preheat oven to 350.
Heat the oil in a large saucepan over medium-high heat. Saute the onion and garlc for about 5 minutes, until softened. Add the mustard powder, molasses, sugar, thyme and red pepper. Cook and stir for 1 minute. Add the beans and 2 cups of the cooking liquid. Spoon into an ovenproof baking dish.
Bake for 25 minutes. Remove from oven, and add the bell peppers and squash or pumpkin; mix well. Cover and bake for 45 minutes more, until the vegetables are tender.
Serve with rice.