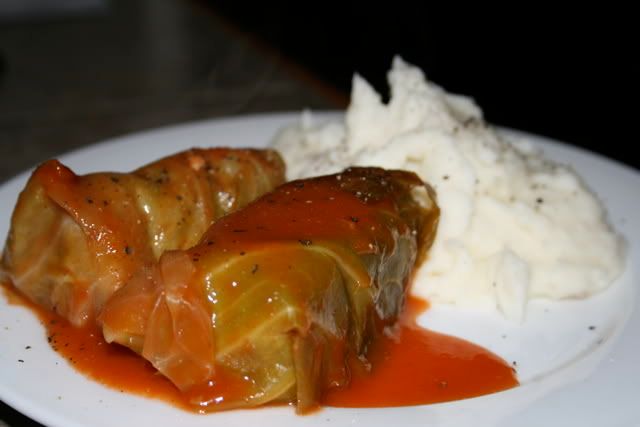 I saw
these cabbage rolls
on
Sweets, Savories, Etc.
the other day, and have been wanting to make them ever since. We've been trying to eat a vegetarian diet at home, though, so I did some tweaking to the recipe, and substituted Morningstar crumbles for the ground meat. I also sauteed the onion in some olive oil before mixing up the filling, because it just sounded yummy. ; )
This recipe made enough to fill a 9 x 9 baking pan, with some leftover. I think it would easily fill a 9 x 13 pan if you used all the filling and all the cabbage leaves, but 9 x 9 was really all we needed this evening, so that's all I made.
I like how the color of the cabbage leaves is variegated in the pan, as I used leaves from the outside in.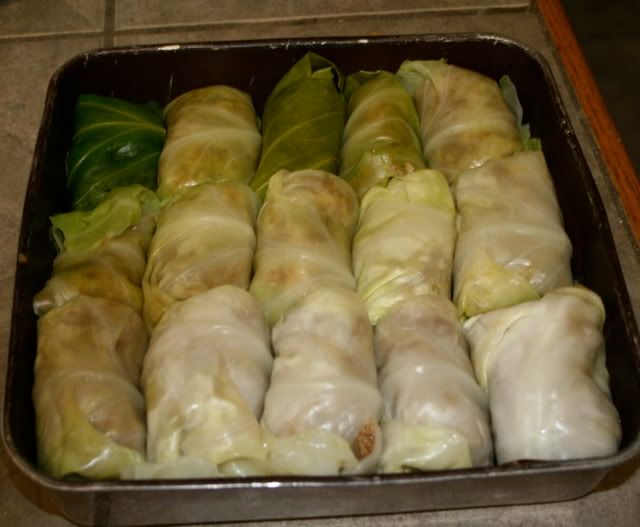 Because I cooked the onion beforehand, and because I didn't have raw meat that needed to cook through while baking, I was also able to shorten the cooking time from 90 minutes to 45. Oh, and I also increased the cooking temperature to 400.
They turned out really well, but we both agreed that the filling was lacking something. Meat perhaps? (har har) They were good, though, and I'd like to try making them again. I think next time I would try adding some vinegar to the filling, or maybe 1/2 to 1 cup of the sauce...just something to make them kind of tangy inside. Overall I do think they'd be far, far better with meat, but there's not a lot I can do about that ; )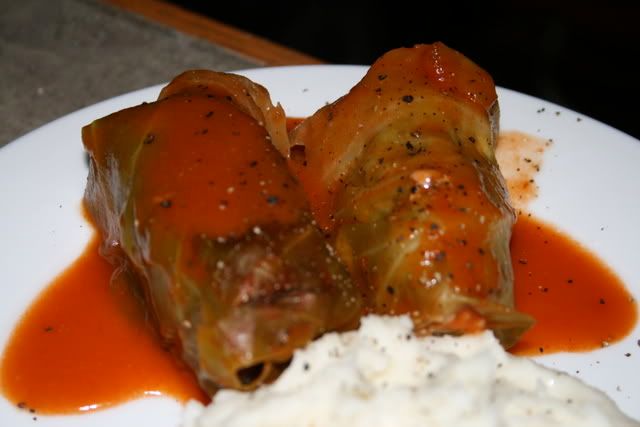 Cabbage Rolls
1 large head of cabbage
Filling:
2 Tbsp olive oil
1 large onion, chopped
2 cups cooked rice
1 12-oz pkg vegetarian ground beef substitute
1/2 cup water
2 eggs
1 teaspoon salt
1/2 teaspoon pepper
Sauce:
2 (10 3/4 ounce) cans campbell's condensed tomato soup
1 soup can of water
1 14.5 ounce can pureed tomato sauce
1/2 teaspoon pepper
Remove core from cabbage, and place core-side down in a large pot. Add water to halfway up the cabbage, cover, and bring to a boil. As soon as it reaches a boil, turn off heat, and leave the top on for 20 minutes. Meanwhile, cook rice if necessary.
Preheat oven to 400.
In a large skillet over medium-high heat, add olive oil and onion. Cook and stir several minutes, until onion is translucent. Add ground beef substitute and water. Cook several minutes, until mixture is mostly heated through. Set aside and allow to cool for several minutes. Whisk together eggs, salt and pepper, and stir into onion mixture. Gently stir in the 2 cups cooked rice. Set aside.
Combine all sauce ingredients in a large bowl, and whisk together to combine. Set aside.
When cabbage has finished cooking, remove from water, drain and carefully remove leaves one at a time. Put about 1/4 cup filling at the base of each leaf, folding in the sides and rolling up. Place seam-side down in a baking pan. Arrange all filled cabbage rolls side by side.
Pour sauce over cabbage rolls. Cover tightly with foil, and bake 45 minutes. Serve hot, with sauce spooned over.