I've only had lentils a few times, and have never cooked them myself until tonight. I've been meaning to try them for a long time, as they're so good for you, so cheap, and so filling, so I finally got to it tonight. I found
this recipe for Coconut Milk Dal
on
Chocolate Shavings
, and made a few modifications to it for our dinner.
It was really delicious, although it was soupier than I had expected. Next time I make it, I think I'll reduce the cooking liquid by about 1 cup, but it was still very good this way. The original recipe called for red lentils, and I only had...whatever kind they had at Target. ; ) I guess brown? I'm not wise enough in the ways of lentils to know what kind I bought, but they worked!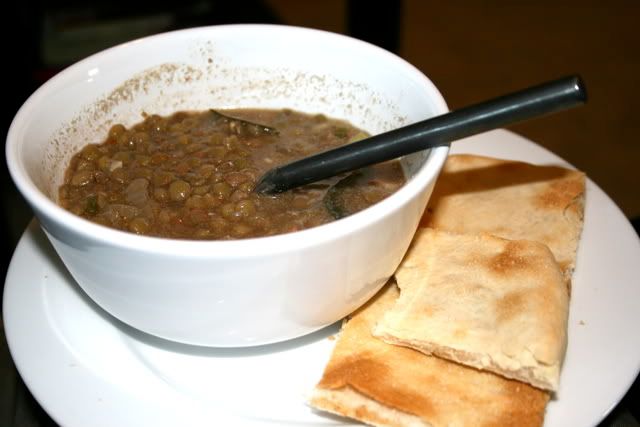 I served it with
flat bread
, my go-to recipe of late. I love this stuff, and it's so fast and easy to make...just 3/4 cup beer and 2 cups flour mixed up and kneaded a few times, then stretched/patted/rolled out and baked for about 10 minutes. You can't beat that!
Coconut Milk Dal
1 cup dry lentils
5 cups water
1 Tbsp vegetable oil
2 cloves garlic, minced
2 Tbsp shallots, finely diced
1 jalapeno, seeded and diced
6 curry leaves
1 tsp crushed red pepper
1 tsp ground coriander
1 tsp salt
1 cup light coconut milk
Combine the lentils and water in a medium saucepan. Bring to a boil, then reduce heat and simmer, uncovered, for 20 minutes.
Meanwhile, heat a skillet over medium-high heat, add the oil, garlic, shallots and jalapeno. Saute 3 to 4 minutes, until soft. Add curry leaves, red pepper and coriander. Stir and cook for an additional 2 minutes. Add the salt and coconut milk, and simmer for 5 minutes.
Add the cooked lentils and liquid. Simmer for several minutes.