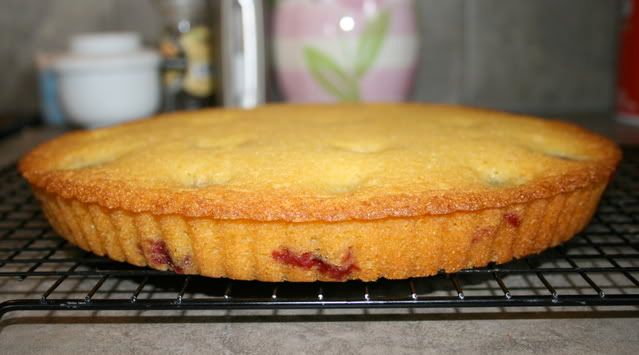 I have to admit, I wasn't very excited about this week's TWD. The recipe was chosen by Caitlin of
Engineer Baker
. It didn't sound appetizing or even intriguing, so it was hard to get excited about it. I finally got down to business and made it on Monday.
I modified the recipe fairly heavily. I didn't read it very closely before going to the store, so I neglected to pick up a lemon. I had an orange in the fridge, however, so I used it instead. I don't like figs at all, so I subbed some chunks of fresh purple plums instead -- something I've been wanting to cook with for awhile. When it came time to mix up the cake, I also realized that I was short on honey, so I used a half cup of honey and about a quarter cup of blue agave nectar. The batter tasted just fabulous, and I happily licked the spatula after I popped the cake into the oven.
Ok. This? This is the reason I joined Tuesdays with Dorie. This cake is amazing! It's been out of the oven for 15 minutes, and I'm already on my second piece! It's so soft, moist and velvety, but with a little crunch here and there. The orange zest is incredibly fragrant. The chunks of plum are tart and fresh. The fluted edges are lightly browned and crispy. I love this cake. And I never would have made it if I hadn't joined TWD. I would have continued to scrunch my nose and flip past this page in the cookbook, and never would have known what I was missing. Hooray for Tuesdays with Dorie! And thank you,
Caitlin
, for such a great choice!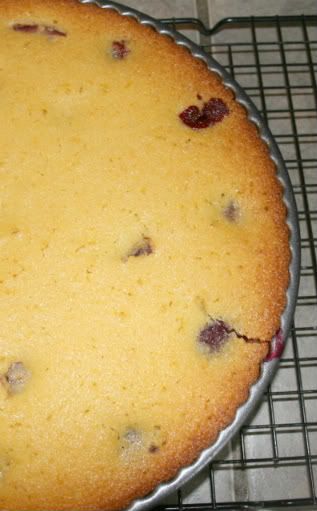 Fluted Polenta and Ricotta Cake
About 16 moist, plump dried Mission or Kadota figs, stemmed [I used 3 fresh red plums, cut in eighths)
1 c. medium-grain polenta or yellow cornmeal
½ c. all-purpose flour
1 tsp baking powder
1 c. ricotta
1/3 c. tepid water
¾ c. sugar [I reduced this to 1/2 cup]
¾ c. honey (if you're a real honey lover, use a full-flavored honey such as chestnut, pine, or buckwheat) [I used 1/3 cup honey and a scant 1/4 cup blue agave nectar]
Grated zest of 1 lemon [I used the zest of 1 orange]
2 large eggs
Getting Ready: Center a rack in the oven and preheat the oven to 325 degrees F. Butter a 10 ½-inch fluted tart pan with a removable bottom and put it on a baking sheet lined with parchment or a silicone mat.
Check that the figs are, indeed, moist and plump. If they are the least bit hard, toss them into a small pan of boiling water and steep for a minute, then drain and pat dry. If the figs are large (bigger than a bite), snip them in half.
Whisk the polenta, flour, baking powder, and salt together.
Working with a stand mixer fitted with the whisk attachment or with a hand mixer in a large bowl, beat the ricotta and water together on low speed until very smooth. With the mixer at medium speed, add the sugar, honey, and lemon zest and beat until light. Beat in the melted butter, then add the eggs one at a time, beating until the mixture is smooth. Reduce the mixer speed to low and add the dry ingredients, mixing only until they are fully incorporated. You'll have a sleek, smooth, pourable batter.
Pour about one third of the batter into the pan and scatter over the figs. Pour in the rest of the batter, smooth the top with a rubber spatula, if necessary, and dot the batter evenly with the chilled bits of butter.
Bake for 35 to 40 minutes, or until a thin knife inserted into the center of the cake comes out clean. The cake should be honey brown and pulling away just a little from the sides of the panm, and the butter will have left light-colored circles in the top. Transfer the cake to a rack and remove the sides of the pan after about 5 minutes. Cool to warm, or cool completely.