Tonight we just foraged for dinner from leftovers and random stuff in the pantry, but I still wanted to cook something, so I whipped up a batch of Irish Soda Bread. I'd never made it before, but had always wanted to. It was soooo easy, and really good! I think it may be a staple from here on out.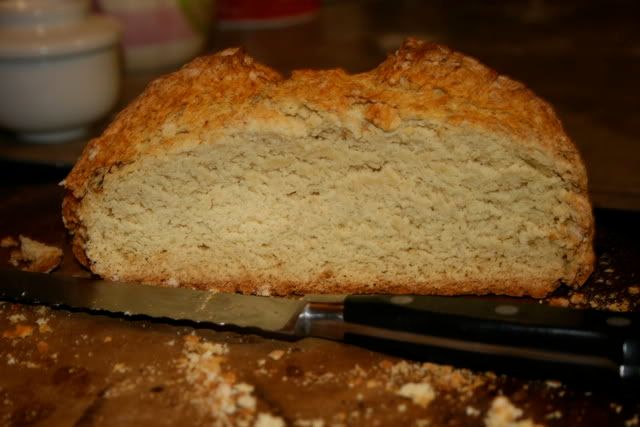 Irish Soda Bread
4 cups all-purpose flour
3 Tbsp sugar
1 tsp baking soda
1 Tbsp baking powder
1/2 tsp salt
1 stick butter, melted
1 cup buttermilk
1 egg
Preheat oven to 375.
Combine dry ingredients in a large mixing bowl. In a small bowl, lightly whisk together melted butter, buttermilk and egg. Add wet ingredients to dry ingredients, stirring with a wooden spoon until dry ingredients are moistened and a soft dough is formed. Flour your hands and, keeping the dough in the bowl, knead several times.
Shape into a circle on a baking sheet, and use a sharp knife to cut a X on the top. Brush with a little milk and/or melted butter, if desired. Bake for 45 minutes, or until a toothpick inserted in the center comes out clean.