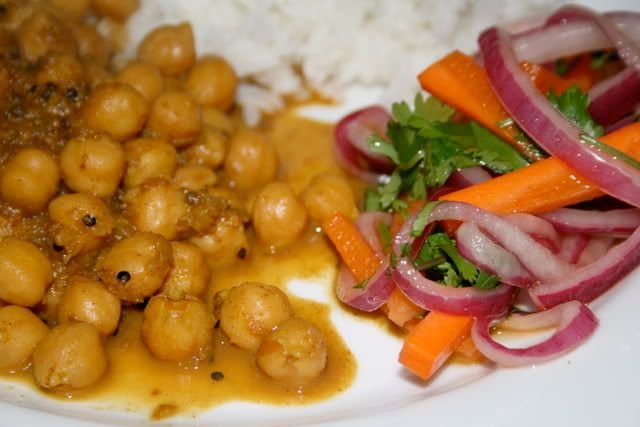 I don't remember how I came across
this recipe for Punjabi Chana on the VeganMania! website
, but I'm sure glad that I did! I have a bit of a love affair going on with chickpeas these days, so this recipe immediately jumped out at me. The ingredients, aside from spices, are minimal, so it was a very inexpensive meal. I already had all of the spices, onion and garlic on hand, so all I had to buy were chickpeas. Seriously, does it get any better than that? Actually, it does! Not only is it inexpensive, it's also really simple to make!
I know I say this a lot, because we love spicy food, but I should probably warn you that this dish IS very spicy. If you're not into food so hot it makes your tongue burn and your eyes water, you'll probably want to cut back on the cayenne pepper, or even omit it. We, however, loved it!
I also mixed up a quick batch of Spicy Onion and Carrot Pickle to go along with the Punjabi Chana (scroll down for the recipe). The pickled veggies are spicy, sweet and tangy all at the same time, and are a great, fresh contrast to the strong flavor of the Chana. I found the recipe
here
, and modified it a little by adding Sriracha hot sauce to make it spicy, some carrots to add some crunch, and a little fresh cilantro for some extra zip. Yum!
And it's all vegan! Woohoo!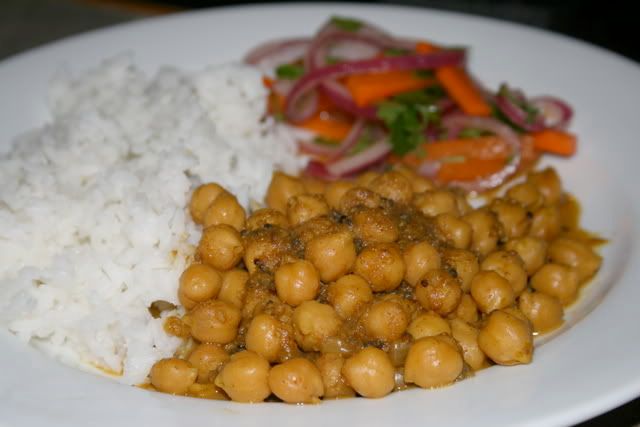 Punjabi Chana
(simple and spicy Indian chickpea dish)
2 tbsp oil
1 tsp mustard seeds
3 cloves garlic, minced
1 Tbsp fresh ginger, grated
1 medium yellow onion, diced
4 cups cooked chickpeas (two cans, drained and rinsed)
1 tsp cumin
1 tsp cinnamon
1 tsp coriander
1 tsp cardamom
1 tsp cayenne pepper
1/2 tsp turmeric
2 cups water (or more)
salt to taste
Heat the oil over medium heat, and add the mustard seeds. When they have finished popping, add the garlic, ginger and onion and sauté until tender.
Add the remaining ingredients except for the salt and allow to simmer over medium low heat until most of the water has been absorbed and the chickpeas are uncommonly soft and rich in texture. Salt this dish liberally.
Serve over rice.
--------------------------------------------------------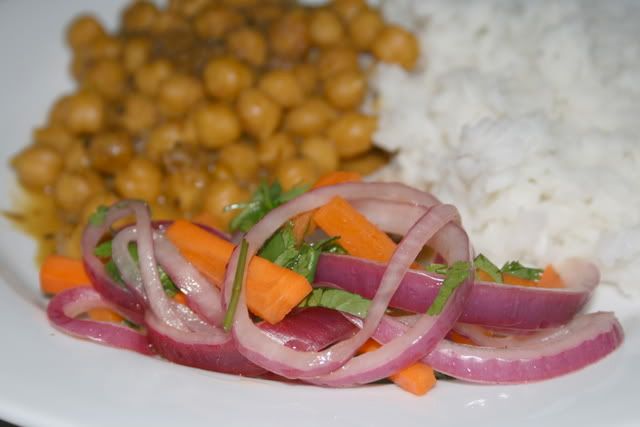 Spicy Onion and Carrot Pickle
1 red onion, sliced
1 large carrot, cut into matchsticks
1/4 cup fresh cilantro, coarsely chopped
6 Tbsp white vinegar
6 Tbsp sugar
2 tsp
Sriracha
hot sauce
1 tsp salt
Rinse the onion slices in cold water, then pat dry.
In a microwave safe small mixing bowl, combine vinegar, sugar, hot sauce and salt. Whisk together, and microwave 1 minute to help sugar dissolve. Combine onions, carrots, cilantro and vinegar mixture in a mixing bowl (I put mine in a gallon size Ziploc bag). Toss to combine. Refrigerate at least 2 hours before serving.