When I bought salmon for
last night's dinner
, I told the fish guy that I needed enough for two people, and, well, he gave me enough for four. I feel a little bit better about how much I paid for it (we are on a tight budget, after all, being two full-time college students, neither one of us working, and raising two kids to boot), seeing as how at least we'll get two meals out of it. But what to do with leftover salmon? I've had cold salmon before, poached in white wine and served with a cucumber sauce, but that wasn't appealing to me right now. After some quick web browsing and brain storming, we settled on salmon salad sandwiches.
There has got to be a better name for this. Tuna salad sounds fine, but salmon salad? It just sounds wrong for some reason, like school cafeteria mystery meat's quirky cousin. Huh. I'm not sure what to do about that. But hey, regardless of what you call it, it's tasty!
What would you call it?
I had fun taking pictures of this. I thought it was hilarious to take an artsy picture of basically glorified tuna salad on cheapo white bread. Ah, I crack myself up.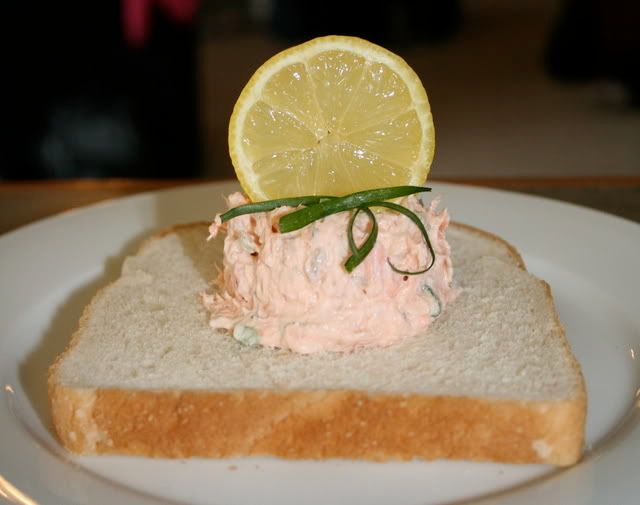 This is how we actually ate it, though, with some leftover
Quinoa Salad
.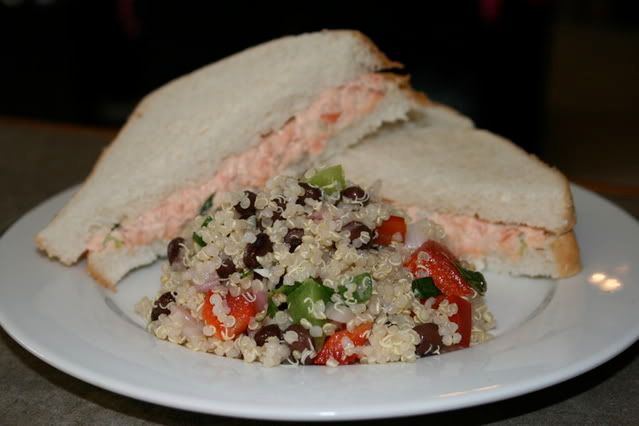 Oh, and I told Meg that it was "pink tuna fish", and she couldn't wait to try it. LOL
Let me preface the recipe by saying that I'm not giving any ingredient amounts. I know that I'm super finicky about how I like my tuna salad, which of course carries over to salmon salad, and I'm sure others are, too. Just use the amounts to suit your own personal taste. If you like just a hint of mayo, no problem. If you prefer your mayo with a hint of fish, go for it. These are just broad guidelines for making salmon salad.
All right.
Salmon Salad Sandwiches
Cooked salmon (I imagine you could use canned salmon -- something I've never tried -- but mine was leftover roasted salmon)
Mayonnaise
Green onions, thinly sliced
Dill, fresh or dried
Salt & Pepper
Bread
In a medium mixing bowl, flake the salmon. Add mayonnaise to suit your taste. Gently fold in green onions and a little dill. Add salt and pepper to taste.
Chill until serving. When you're ready to eat, slather this on the bread of your choice.