I was so inspired by
this recipe
on
Food Blogga
last night, that I had to switch up my menu and make it for tonight's dinner. I mean, look at Food Blogga's pictures! I was drooling from the first glance. So I stopped at the store on the way home, picked up all the ingredients, and made it almost as soon as I walked in the door from work. I wanted to make sure it had time to chill for a bit before dinner, as the recipe states that it tastes best after a few hours.
It's so delicious! Tangy, smokey and spicy. I love it! We've really been enjoying the Black-eyed Pea Salad lately (which I've now taken to making with garbanzo beans and edamame instead of black-eyed peas), so I'm thrilled to have another chilled bean salad to add to my repertoire.
I made a few minor adaptations to the recipe: I used 1 whole red onion instead of 2 green onions, because I'm a red onion fanatic; I omitted the red bell pepper, because bell peppers are crazy expensive these days; and I added some diced avocado. Oh, and I just realized that I omitted the oregano because I was in a hurry, and just didn't notice it. Woops.
This is great just eaten plain with a fork as a main dish, or scooped up with chips as a dip, or served as a side dish. You really can't go wrong with this. And it's vegan! Woohoo!
Thank you, thank you, Food Blogga, for an amazing recipe! It's guaranteed to become a favorite in our home.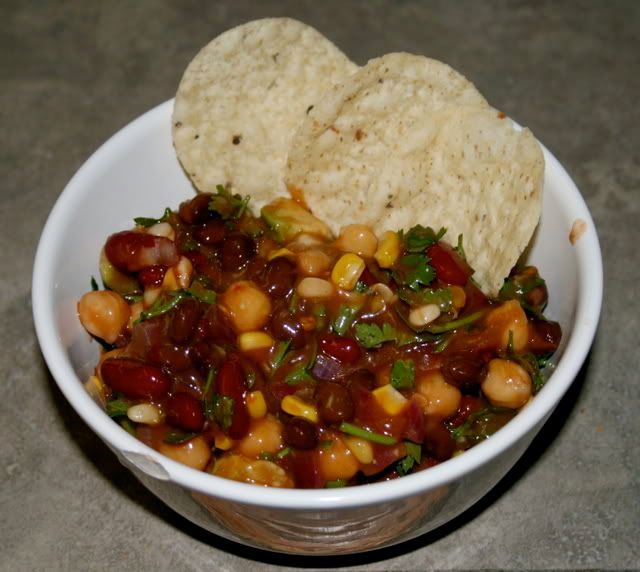 Chipotle Barbecue Bean and Corn Salad
Makes 4-6 servings
Sauce:
1 cup ketchup
1/4 cup light brown sugar
1 tablespoon Dijon mustard
1 teaspoon Tabasco sauce
2 teaspoons apple cider vinegar
3-4 chipotle peppers in adobo sauce, finely chopped, plus 1-2 tablespoons of adobo sauce
Salad:
1 teaspoon olive oil
1 red onion, coarsely chopped
2 ears sweet corn, kernels removed from the cob
1 (14.5 oz) can of black beans, rinsed
1 (14.5 oz) can of red kidney beans, rinsed
1 (14.5 oz) can of chick peas, rinsed
2 tablespoons finely chopped fresh cilantro
1 tablespoon finely chopped fresh oregano
To make the sauce, whisk together all ingredients in a medium bowl, and set aside.
To make the salad, heat olive in a large skillet over medium heat. Add onion and corn kernels. Saute until lightly browned, about 3-4 minutes. Remove from heat, and add to a large bowl. Add rinsed beans, and sauce; stir until well combined. Gently stir in the fresh herbs. Adjust seasonings if necessary. Serve at room temperature or slightly chilled, though it tastes better if allowed to rest for a couple of hours.