Leftover Roasted Pork: Day One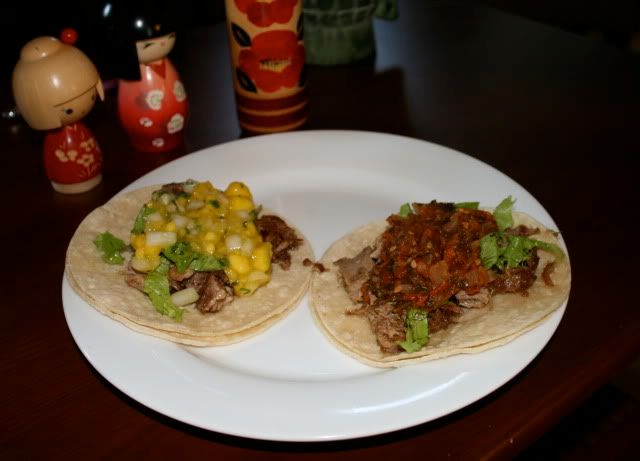 Tonight we used the leftover pork to make tacos. I couldn't decide which kind of salsa I wanted, so I made two. First I made a cooked tomato salsa. Usually fresh pico de gallo is my tomato salsa of choice, but I wanted to try a cooked salsa. Last year I tried roasting tomatoes, onions and jalapenos in the oven, then making them into salsa, but the results were just awful. This time I tried cooking it in a skillet, and it turned out somewhat better, but not fantastic. I used 4 tomatoes, 1 onion, 1 jalapeno and a handful of cilantro, plus salt and lime juice. I put it in a skillet, started cooking it down, then used an immersion blender to puree it. I continued cooking it until it turned from light pink to a bold red. This recipe needs more tweaking before I post it, but I'm looking forward to trying it again at some point.
The second salsa I made was a fresh mango salsa. It was absolutely delicious and refreshing, and the recipe is below.
To make the tacos, I sprayed corn tortillas with a quick blast of cooking spray, then heated them in the microwave for 30 seconds. The leftover pork was warmed in a skillet, then heaped on the tortillas. I topped them with some fresh, local romaine lettuce (thanks, CSA!) and generous helpings of salsa.
Fresh Mango Salsa
1 ripe mango
1 small red onion, diced
1 jalapeno, finely diced (take the seeds out if you don't like it hot. I leave them in)
1/4 cup cilantro, chopped
juice of 1 lime
1/4 tsp salt
1 tsp agave nectar (can substitute sugar or molasses)
Combine all ingredients and set aside for 15-20 minutes so flavors can meld.