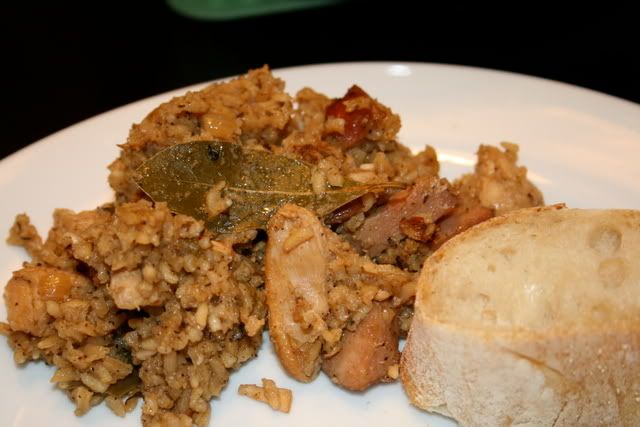 When I first met Brad seven years ago, I was thrilled to find out that he enjoyed cooking. A match made in heaven, no? We had been dating for about two weeks when he first cooked for me -- a fabulous dinner of lasagna from scratch. I didn't know any other 24 year old guys who not only cooked their own pasta sauce from scratch, yet alone an entire lasagna. He even cooked the lasagna noodles in garlic and olive oil infused water. I tell you what, I was smitten. I mean, I liked him already, but when I walked into his apartment that day, with the Barenaked Ladies playing on the stereo, and Brad finishing up his sauce, sleeves pushed up on his long-sleeved gray t-shirt, splattered here and there with sauce...yeah, that's the definitive moment when I looked at him and thought "Holy shit. I love this guy." And I still do. ; )
Lasagna's not the only thing he cooks, though. He's an impressive force in the kitchen, never using recipes, just winging it as he goes, adjusting ingredients and seasoning until everything is just right. I wish I could cook with such abandon, but I am, as I've said before, much more of a by-the-book girl. We used to cook dinner together most nights, but kind of fell off that habit when he worked nights for the better part of our first year in Japan, and then -- when he wasn't deployed to Afghanistan -- had a job that often didn't get him home from work in time to pitch in. I think it's something we need to start again, though. I miss cooking together.
This dinner tonight is one of his specialties. He was born and raised in southeast Louisiana, so jambalaya is near and dear. This is another one of the regional dishes I'd never tried before I met him (along with grits, crawfish, red beans and rice, muffalettas, catfish, salty cornbread, sweet tea, and the like), but it quickly became a favorite, and I love when he makes it! Tonight his mom and little brother came over for dinner, so he tackled the entree and I handled
French bread
and
brownies
(scroll down for those blog entries).
I've done my best to transcribe his process into a written recipe, and I think this is pretty close. I don't have actual amounts for the cajun seasoning and Tabasco sauce, so you'll just have to taste and tweak as you go, but this is pretty hard to mess up.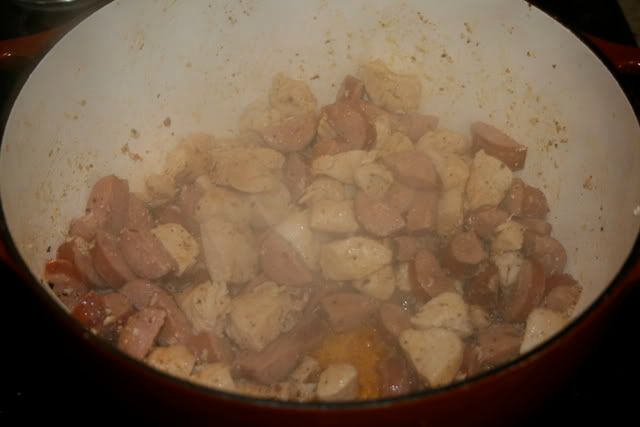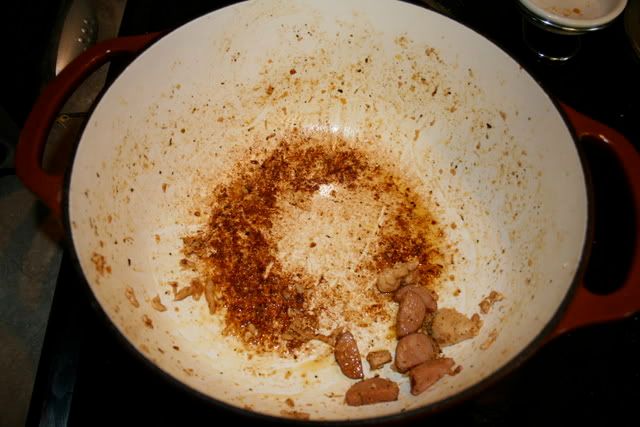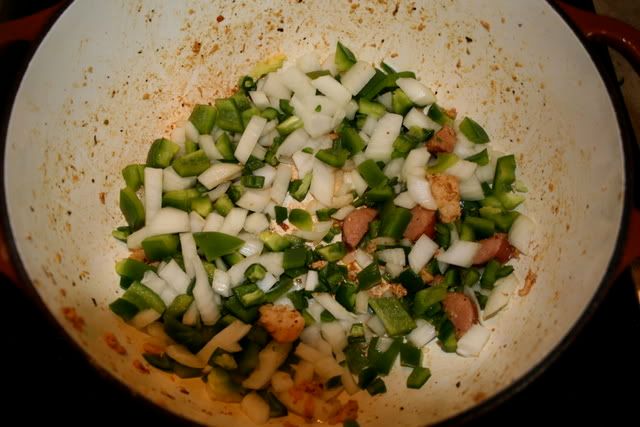 Oh, baby!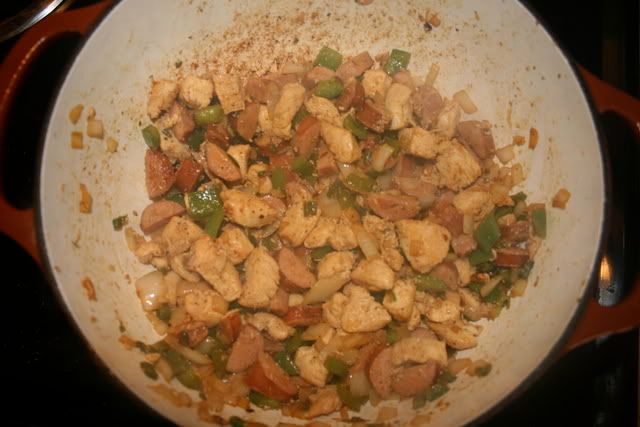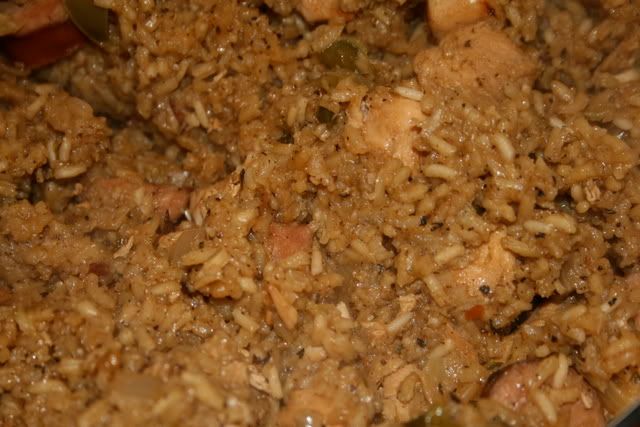 Brad's Sausage & Chicken Jambalaya
Smoked sausage or andouille sausage link, about 8"
2 boneless, skinless chicken breasts
3 cloves garlic, separated
1 to 2 green bell peppers
1 onion
2 to 3 fresh jalapeno peppers
2 Tbsp olive oil
cajun seasoning
oregano, basil, thyme, crushed red pepper, 2 bay leaves
Tabasco sauce
2 cups rice, uncooked
1 can beer
chicken stock, enough to make 4 cups of liquid when combined with beer
Prepare all ingredients before you start cooking, as follows: slice sausage in half lengthwise, then slice into ½-inch pieces; cut chicken into chunks; dice bell pepper and onion; finely dice jalapenos; mince garlic. Set aside.
Heat olive oil in a heavy skillet over medium-high heat until almost smoking. Add chicken, sausage and 1 clove of garlic; add liberal amounts of cajun seasoning, spices and Tabasco. Cook and stir until cooked through and fairly blackened. The majority of the spices for this dish are added at this point in the recipe, so be sure to check and adjust seasoning as necessary. Remove meat from skillet with a slotted spoon, and set aside, leaving all pan juices and drippings in the skillet.
Add bell pepper, onion, jalapeno and remaining cloves of garlic to the hot skillet, cooking and stirring to get the yummy blackened bits off the bottom of the pan. Cook vegetables until softened and lightly browned. Add dry rice and stir for several minutes to brown. Add chicken stock and beer, stirring well to combine thoroughly.
Cover and simmer 20 to 25 minutes, or until rice is cooked through. Serve with crusty French bread and a green salad.