Brad cooked dinner tonight because I was at a Women's Council welcome tea all afternoon, and especially after spending all morning making the rainbow jello, I just wanted an evening out of the kitchen. Brad's a fantastic cook, lest you get the wrong idea from tonight's menu, and think the only things he can cook are grilled cheese and tater tots. ; ) We just wanted some cheap and easy comfort food for dinner tonight, and Brad, awesome man that he is, stepped up and cooked it.
A month or two ago we were across the street from Sonic, and saw a huge sign advertising their "extreme tots". We were intrigued -- how does one make tots extreme? -- so naturally we drove over to see what they were all about. Turns out they were tater tots smothered in chili and cheese, topped with onions and pickled jalapenos, and drizzled with sour cream. OMG YUM! We ordered some, and they were just as fabulous as they sounded. Totally ghetto food, but sooooo yummy!
This is our own homemade version of extreme tots. Seriously, what's not to like?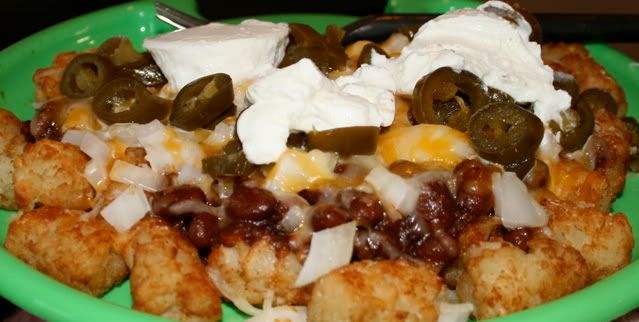 Extreme Tots
Frozen tater tots
Chili
Shredded cheddar cheese
Diced onions
PIckled jalapenos
Sour cream
Cook tater tots according to package directions. Heat chili. When tater tots are done cooking, arrange them on a plate, spoon chili over them, sprinkle with cheese, onions and jalapenos, and dollop with sour cream. Serve hot.