I came across
this recipe
awhile back, from
The Pioneer Woman's blog
, and I've been wanting to try it ever since. It just looked so fresh and fantastic, and wow, you can't beat her pictures of the process!
I put it on my menu ages ago, but kept pushing it off till later, mostly because chopping all those vegetables just seemed like more work than I wanted to deal with. Stupid, stupid, stupid. I finally made it tonight, and it came together SO quickly and easily. It helped, too, that Brad was washing dishes while I did the prep work, so as soon as I finished with a dish or some vegetable remnants, he'd immediately whisk them away to the sink or the garbage. Dude, I love that guy so much it's not even funny. ; )
So yeah, this was way easier than I had expected. And it tasted OMGWTFDELICIOUS!!! ; ) Seriously, it was amazing. If you haven't had this before, you need to go make it. Like yesterday.
I only made a half batch, and even after we ate huge bowl of it, there was still more than half of it left, so don't make the full recipe unless you have a big crowd to serve it to. Oh, and also those jalapenos in the dressing make this stuff SPICY, so use caution. I love it that way and so does Brad, but consider yourself warned.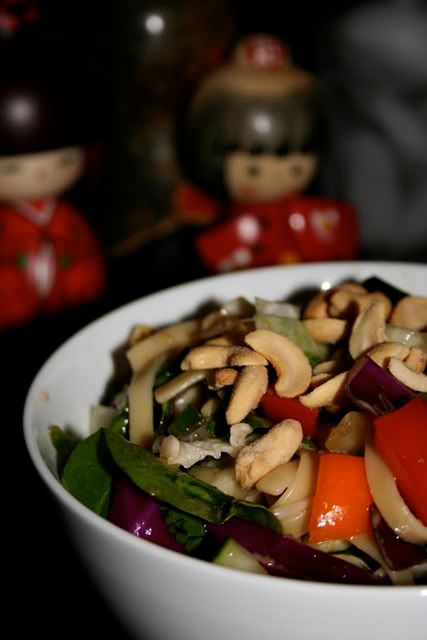 Asian Noodle Salad
adapted from Jamie Oliver
SALAD INGREDIENTS:
1 packages linguine noodles, cooked, rinsed, and cooled
1/2 to 1 head sliced Napa cabbage
1/2 to 1 head sliced purple cabbage
1/2 to 1 bag baby spinach
1 red bell pepper, sliced thin
1 yellow bell pepper, sliced thin
1 orange bell pepper, sliced thin
1 small bag bean sprouts
3 sliced scallions
3 peeled, sliced cucumbers
LOTS of chopped cilantro—up to one bunch
1 can whole cashews, lightly toasted in skillet
DRESSING:
Juice of 1 lime [Cheryl's note: I used the juice of 2 limes]
8 tablespoons olive oil [Cheryl's note: I only used about 2 Tbsp]
2 tablespoons sesame oil
6 tablespoons soy sauce
1/3 cup brown sugar
3 tablespoons fresh ginger, chopped
2 cloves chopped garlic
2 hot peppers or jalapenos, chopped
More chopped cilantro—LOTS [Cheryl's note: I didn't put cilantro in the dressing because Brad doesn't care for it, and there was already some in the salad]
Mix together salad ingredients. Whisk together dressing ingredients and pour over salad. Mix with tongs or hands and serve on platter.
*Dressing keeps up to three days before serving, WITHOUT cilantro.