Update! We had this for leftovers the next couple days, and it was fantastic! I mean, absolutely delicious! Who'd have thought the flavor would improve that much in the fridge? Go figure. And here's a pretty picture from this evening, when we're eating up leftovers.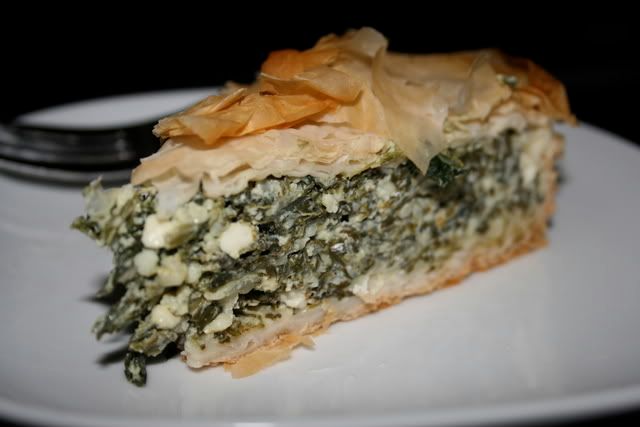 [original post from 4/15 @ 7:11 PM]
Tonight's dinner was spanakopita. It was good. Not great, but pretty good. I'm going to try a different recipe next time I make it, but in the meantime, the recipe I used is below.
I looked at other recipes after tasting this, and saw that most of them don't call for cottage cheese and cream cheese, nor do they use as many eggs, so I'm definitely trying one of those next time. I felt like the feta got lost in there among the other cheeses, and come on, isn't the feta what we came for in the first place?
I also think that next time I'll spritz the phyllo dough with olive oil instead of brushing it with butter. That'll be faster and easier, as well as a little healthier.
It didn't taste spectacular, but it sure is pretty, isn't it?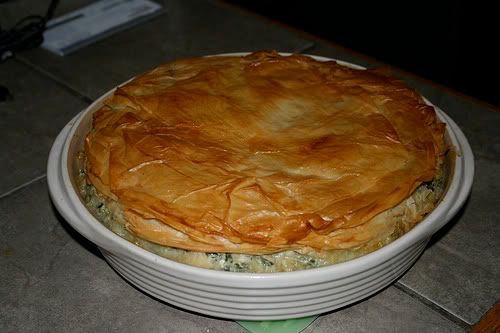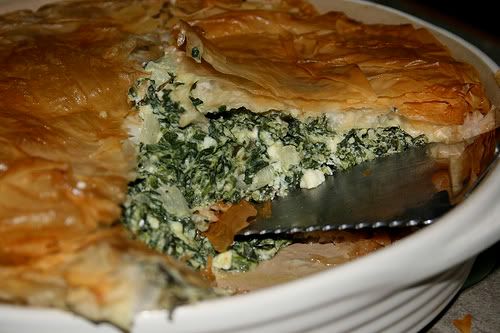 Spanakopita
2 Tbsp olive oil
1 large onion, diced
5 eggs
3 10-oz packages of frozen, chopped spinach, defrosted and drained
8 ounces cream cheese
8 ounces feta cheese
8 ounces cottage cheese
1/4 cup Parmesan cheese
salt and pepper
1 1-lb box phyllo pastry
1 stick butter, melted
Heat olive oil in a skillet over medium-high heat. Add onion and cook and stir several minutes, until the onion is soft and begins to brown. Set aside.
With a handheld mixer, beat the eggs until fluffy. Add spinach, cream cheese, feta and parmesan. Stir to combine thoroughly. Season with salt and pepper. Set aside.
Preheat oven to 350.
Using a pastry brush, butter a large, shallow baking dish. Line the bottom of the pan with half the box of phyllo, brushing with butter between each layer. Add spinach filling. Cover with remaining phyllo, brushing with butter between each layer.
Bake 50 minutes, or until crispy and golden brown on top.