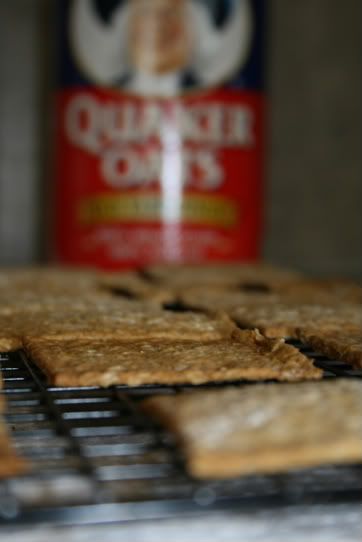 Brad first discovered oatcakes when he was deployed to Kabul, Afghanistan, of all places. One of the soldiers he worked with had family send him boxes of Walker's Highland Oatcakes in care packages, and he'd share them with everyone in the office. I've looked for recipes to make them at home, but there seem to be different schools of thought when it comes to oatcakes, with some being thin and cracker-like, and others being more like soft pancakes. I just wasn't sure where to start, not having ever eaten them myself. When we were in the Seattle area for a few weeks this past December, we found some when we were strolling through Port Townsend, Washington! Brad was excited to have them again, and I was excited to finally have a starting point for selecting a recipe.
Then we moved, and I promptly forgot about them. ; )
But today, bored out of my mind, I was thumbing through Nigella Lawson's
How To Be A Domestic Goddess
cookbook, and saw a recipe for oatcakes! They sounded like they would be fairly similar to the Highland Oatcakes, and only called for a handful of standard pantry ingredients (oats, salt, baking soda, butter and water), so I headed to the kitchen to try them.
I only had old-fashioned oats, not quick-cooking, and I'm not sure if that made a difference or not, but the oats mixture did not form a stiff dough like the cookbook said it would. It just got sticky, and then stickier, so I ended up adding in a little flour to try to get it to a decent texture for kneading. It was still really tacky when I began kneading it on a floured surface, but it was definitely manageable. It rolled out like a dream, too, and then I used a pizza cutter to cut it into rectangles.
They turned out really well! I rolled them a little thinner than I had intended, so they're not as thick as Walker's Oatcakes, but they're still really good. Next time I'll just roll them thicker and see how they turn out. I made a double batch this time, and it made 32 thin crackers, so next time I'll probably make a triple batch and that should make about the same number of thicker ones.
I brought one to Brad, hot out of the oven, and within 20 seconds he was in the kitchen getting a handful. : ) Success! He said that in Kabul everyone liked to eat them with peanut butter, but they're also good with a slice of cheese, or a little butter, or some jam. I bet they'd be really good with Nutella, too...yummmm. I had some today with pumpkin butter, and they hit the spot.
Oh, and they smell like popcorn. Wild, huh?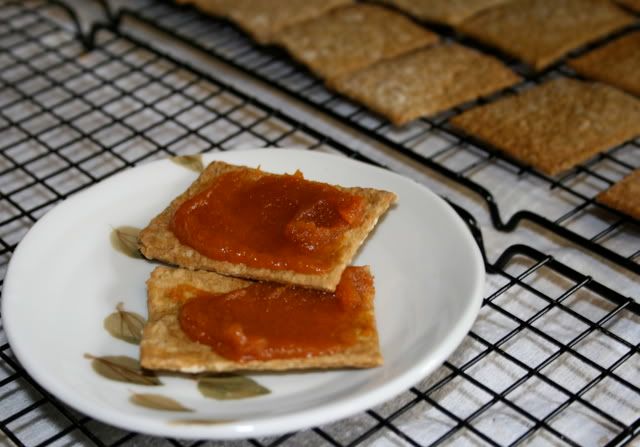 Oatcakes
adapted from Nigella Lawson's
How To Be A Domestic Goddess
2 cups plus 2 Tbsp rolled oats
1/2 cup all-purpose flour
1/4 tsp salt
3/4 tsp baking soda
2 Tbsp melted butter
12 to 28 Tbsp very hot water
Preheat oven to 400.
Combine oats, flour, salt, baking soda and butter in the bowl of a stand mixer. Turn mixer to low, and begin to drizzle in water, one tablespoon at a time, until the mixture forms a sticky dough. Turn dough out onto a liberally floured surface, sprinkle with additional flour, and knead one or two minutes, flouring the surface and your hands as needed.
Roll out to about 1/8 to 1/4 inch thickness. Cut into rectangles or circles, place on an ungreased cookie sheet, and bake 15 to 18 minutes, or until edges are beginning to brown lightly, and the cakes hold their shape. Remove to a cooling rack.
Serve with peanut butter, butter, jam, cheese, Nutella, or whatever you like!