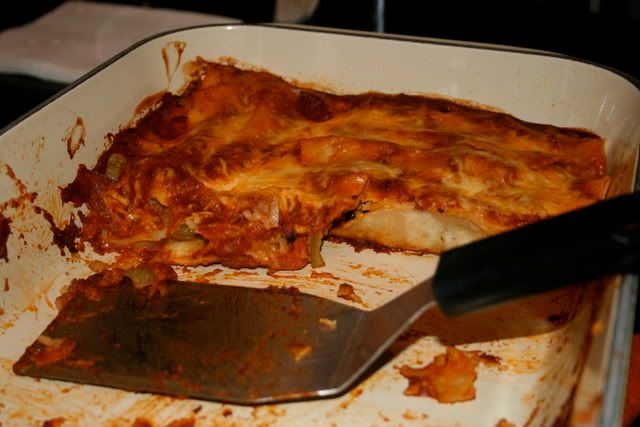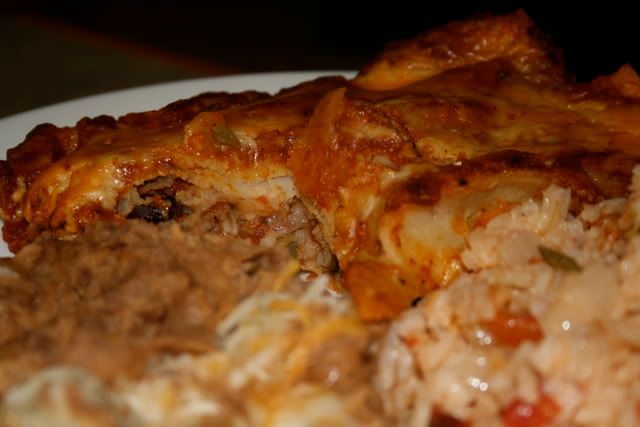 This, and the enchilada sauce, are recipes that I formulated completely on my own, from start to finish, which is very unusual for me. It used to be that I followed recipes to the letter, not veering from the measurements or technique at all, but in the past couple years I've finally begun tweaking recipes. Coming up with a recipe on my own from square one, though, is something I've only done a few times, so I'm very proud of this one. ; )
I already have a great recipe for
chicken enchiladas
(tweaked from one my mom gave me years ago), but since we try not to eat meat at home, I've been wanting to come up with a vegetarian enchilada recipe. I've seen some with spinach and mushrooms, and others with potatoes and kale, but I wanted something different, and that's when I decided on rice and black beans.
These are super yummy! They're spicy enough to elicit a little pain, but not so much that they're unpleasant to eat. They're very hearty and filling, and also fairly inexpensive to make. Give them a try! If you're not a fan of spicy food, you can omit the chipotle peppers and sauce, and substitute mild Rotel for the original or extra spicy varieties.
Black Bean and Rice Enchiladas
1 Tbsp vegetable oil
1 onion, diced
1 bell pepper, diced
2 cloves garlic, minced
2 Tbsp chipotle peppers, plus 2 Tbsp sauce
1 can Rotel
1 can black beans, drained and rinsed
2 cups cooked rice
16 corn tortillas
3 cups shredded soy cheese
1 batch
Red enchilada sauce
Heat vegetable oil in a skillet over medium-high heat. Add onion, and cook and stir several minutes, until onion softens. Add bell pepper and garlic. Cook a few minutes more or until vegetables begin to brown. Stir in chipotle peppers, sauce, Rotel and black beans. Simmer several minutes to heat through. Gently stir in rice, and remove from heat.
Preheat oven to 425. Spread about 2/3 cup enchilada sauce in the bottom of a 9 x 13 baking pan; set aside.
Soften corn tortillas by dipping each side quickly in hot oil and then draining on paper towels, or by heating in the oven (wrap in foil first) or the microwave.
Fill tortillas with 2 to 3 Tbsp filling and 1 Tbsp cheese. Roll and place seam side down in baking pan. Sprinkle with 1 1/2 cups cheese. Pour remaining enchilada sauce over the enchiladas, and sprinkle evenly with remaining cheese. Cover with foil and bake 25 minutes. Remove foil and bake 5 minutes longer.