I've talked before about how much we love our Japanese curry. I still have about a dozen packs of ready to serve mild pork curry from Coco's, and two boxes of curry base for making my own. Now that I know that we can buy the curry base online or in stores (hooray!), I'm trying out other recipes I can make with it. Tonight's experiment is curry soba soup. I based it on
a recipe I found on about.com
, but instead of using udon, which I don't particularly care for, I used soba noodles. And of course I left out the meat.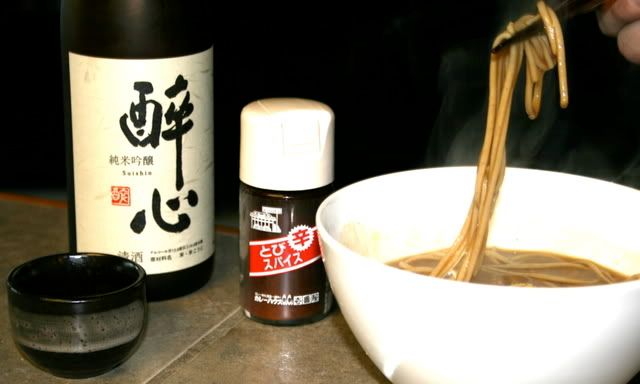 The results? Well, the kids didn't like it. They would have rather just had regular curry with rice, so that was a bust. Brad loved it, however, so I guess this will be something that we just make for ourselves, and not for the kids. I haven't tried it yet (I had a late lunch and I'm not hungry yet), but it smells fantastic, and I'm sure I'll enjoy it, too.
Another thing I'd like to try making with curry base is
curry bread
, but outside of that I'm not sure what else I can do with it. Suggestions are welcome, if anyone has ideas! Really, though, this stuff is awesome the way the kids like it, just made into gravy and served with rice, so I'm not complaining.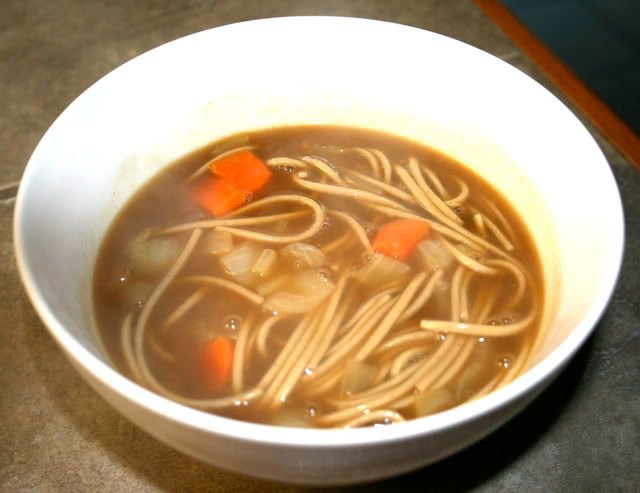 Curry Soba Soup
4 servings boiled udon noodles
1 Tbsp vegetable oil
1 small onion
1 carrot
7 cups vegetable stock
1/2 tsp salt
3oz. Japanese curry base
2 tbsp cornstarch
2 tbsp water
Dice onion and carrot. Heat a large pan over medium-high heat, add oil, and saute the onion and carrot until soft. Add vegetable stock and curry base. Bring to a boil. Whisk together corn starch and water, and slowly pour into the soup, whisking constantly, to thicken. Add soba noodles and heat through. Serve hot.