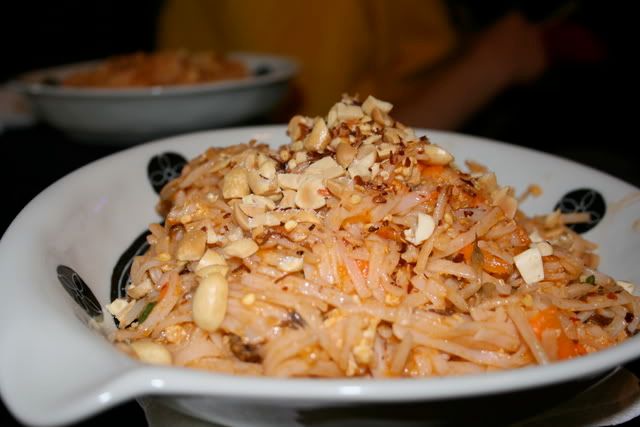 I made Pad Thai not too long ago, and I wasn't too thrilled with it. It was good, don't get me wrong, but it was (to my knowledge) a fairly authentic Thai recipe. And I'm an American, and I wanted totally inauthentic, American style Pad Thai. Pad American, if you will. ; ) So that's what I made tonight. Pad Thai with a bright pinkish reddish sauce that heavily features ketchup. That's right!
And it hit the spot. Total comfort food. Yummy!
Look at that pinkish reddish goodness!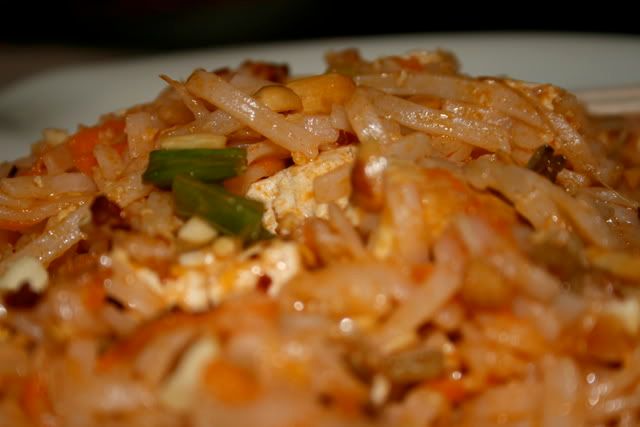 American Style Pad Thai
1 lb Thai rice noodles
2 cups mung bean sprouts
6 Tbsp ketchup
6 Tbsp lime juice
2 Tbsp brown sugar
1/2 cup fish sauce
1/2 cup vegetable oil
1/2 block extra-firm tofu, drained, pressed, and cut into small cubes
2 eggs
2 cups shredded carrot
1 bunch green onions, cut into 1/2-inch pieces
chopped peanuts, crushed red pepper, sugar and vinegar, if desired
Bring a large pot of water to a boil. Remove from heat, add rice noodles, and soak 2 to 3 minutes, until softened. Meanwhile, place bean sprouts in a strainer in the sink. When noodles are softened, pour over the bean sprouts in the colander. Set aside.
In a small bowl, whisk together sauce ingredients: ketchup, lime juice, brown sugar and fish sauce. Set aside.
Wipe out the pot, return to heat, and add vegetable oil over medium-high heat. Add tofu and cook for several minutes, until just beginning to brown. Drain tofu on paper towels, and discard all but a trace amount of oil. Return to heat. Whisk eggs lightly and add to pot, quickly scrambling. Add noodles, bean sprouts, carrots, green onions and sauce. Toss several minutes to distribute vegetables and sauce, until heated through.
Serve with chopped peanuts, crushed red pepper, sugar and vinegar for topping, if desired.