I've seen these Mascarpone Brownies on blogs all over the place, and have really been wanting to try them. The look so dense and chocolately and fabulous that I couldn't resist. I wanted a dessert for this evening that my mother-in-law was coming over for dinner, and this was the first thing I thought of.
(Isn't that a pretty plate, by the way? I bought it at the Daiso (100 Yen Store) in Japan right before we moved, and now I really wish I had bought a whole matching set. So bright and cheery!)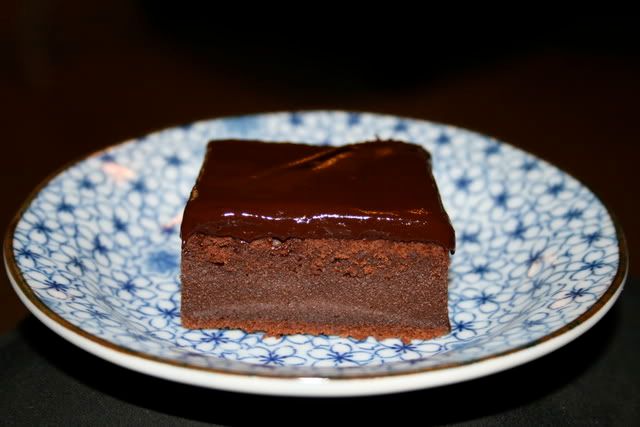 I couldn't get mascarpone at the local grocery store, and didn't really have time to trek all the way out to a bigger store, so I subbed cream cheese whipped with some half-and-half instead. Not having tried the real deal, I don't know how these measured up in taste, but they were absolutely delicious and decadent, and they look just like the pictures I've seen of those made with mascarpone, so I'll call them a success. ; )
I was afraid the kids wouldn't care for them since they're so rich, but they loved them!
Chocolate Mascarpone Brownies
Cookworks Show on Food Network Canada via
Recipezaar
via
The Kitchen Sink
For the Brownies:
1 cup unsalted butter (plus more for preparing pan)
3 ounces semisweet chocolate, finely chopped
1 cup granulated sugar
1/2 cup cocoa powder
1/2 cup mascarpone cheese, softened
3 large eggs, at room temperature
2 teaspoons vanilla extract
1/2 cup all-purpose flour
1/4 teaspoon salt
Preheat oven to 325°. Butter an 8-inch square glass baking pan and set aside.
Place the butter and chocolate in a microwave-safe bowl. Microwave at half power in 30 second intervals, stirring between each heating. Continue until both are completely melted.
Sift sugar and cocoa powder. Add to the butter/chocolate mixture. Beat in (by hand) the mascarpone, eggs, and vanilla extract until smooth. Fold in flour and salt.
Pour batter into pan and spread evenly.
Bake for 45-50 minutes, or until a toothpick inserted in the center comes out clean.
Cool in pan on cooling rack.
For the Ganache:
6 ounces semisweet chocolate, finely chopped
6 tablespoons heavy cream
3 Tablespoons unsalted butter
Place chopped chocolate in a small bowl. Set aside.
In a small saucepan, heat the butter and cream over medium heat, stirring constantly. When mixture is almost boiling, pour over the chocolate. Let stand for 30 seconds. Then, stir until smooth.
Pour ganache over cooled brownies and spread evenly.
Allow ganache to firm before cutting brownies. Brownies may be placed in refrigerator to expedite this.