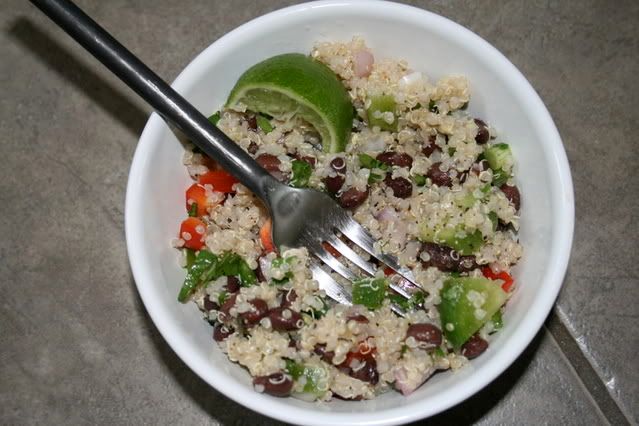 My friend Sarah posted this recipe on her blog, and it sounded so good that we had to try it! It's exactly the kind of food we're craving this week -- fresh, light and healthy -- after all the greasy (but delicious!) stuff we ate last week. I've never had quinoa before, but it's something I've been wanting to try for a long time.
The salad was delicious! The flavor is fresh and bright, and it's filling without being heavy. Thank you, Sarah, for a fabulous recipe!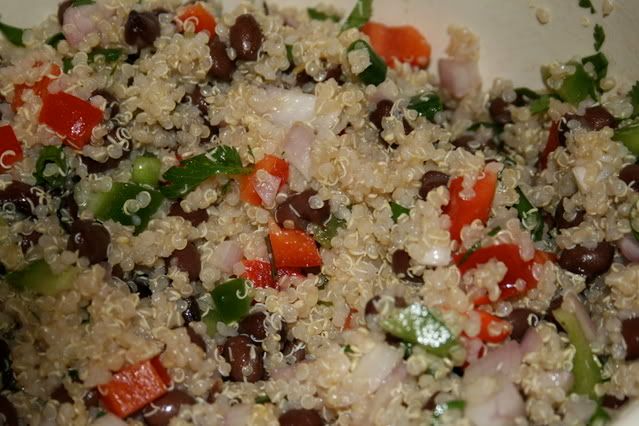 I learned something about quinoa today. Before you cook it, it's like tiny little marbles, and it scatters e v e r y w h e r e if you spill it. Yikes. I bought a bag of it in bulk today at Whole Foods, and in the process of transferring it to a storage container, some of it spilled on the counter, and it rolled all over the place! Consider yourself warned.
Sarah says that the leftover quinoa that you don't use in the salad is great for breakfast, mixed with almond milk, blue agave nectar, raisins, applesauce and flax seed. Guess what we'll be having for breakfast tomorrow?
Quinoa Salad
1 c uncooked quinoa (rinsed)
1 red bell pepper, diced
1 c cilantro, chopped
1 small red onion, diced
1 c green onions, chopped
2 T lime juice
2 T red wine vinegar
2 T grapeseed oil
1.5 tsp salt
15 oz can of black beans, rinsed
Put 2 cups of water and the 1 cup of quinoa in a small saucepan. Bring to a boil. Cover, reduce heat to low and simmer 15-20 minutes until liquid is dissolved. Fluff with a fork. Put in fridge to chill.
Place chopped vegetables in a big bowl. Add oil, vinegar, salt, and mix well. Add 2 cups of quinoa (save the left over for another recipe) and mix. Fold in black beans.
Chill and serve.