Insertfoodhere salad sandwiches are one of my guilty pleasures. Tuna salad, chicken salad,
salmon salad
, egg salad...you name it. I could eat them for lunch every day and not get tired of them. None of them, however, fit into the vegetarian diet we've been trying to eat at home. We're trying not to eat dairy products, either, although we're admittedly not doing such a great job of that, but we still do try.
I had half a pack of tofu leftover from when I made Pad Thai Monday evening, and I remembered reading something about how you can make a fake egg salad using diced and/or mashed tofu, so I set out to try it! I didn't have anything really special to add to it, so I went with the bare bones basics: (vegan) mayonnaise, yellow mustard and dill pickle relish. And you know what? It really does taste like an egg salad sandwich! I didn't think it would, but it really honest to God does. Enough so that even Brad, who hates tofu, gave it an enthusiastic thumbs up, and ate an entire sandwich. Hooray!
I'm particularly excited about this because I often want an egg salad sandwich, but don't want to fuss with boiling the eggs. I'm nothing if not impatient, and all the time it takes to boil the eggs, let them cool, and wrestle with peeling them (something I really find difficult, for some reason) is oftentimes just too much for me. But now I can have egg salad that not only fits within a vegan diet, but also is super fast and easy. Yes!
Pardon the really boring, lame picture, as I didn't have anything to spruce it up with right now. There's so much more you could add to this...some green or red onions, lettuce, sprouts, tomato, or whatever your little heart desires. But definitely give it a try if you have some leftover tofu. It's really good!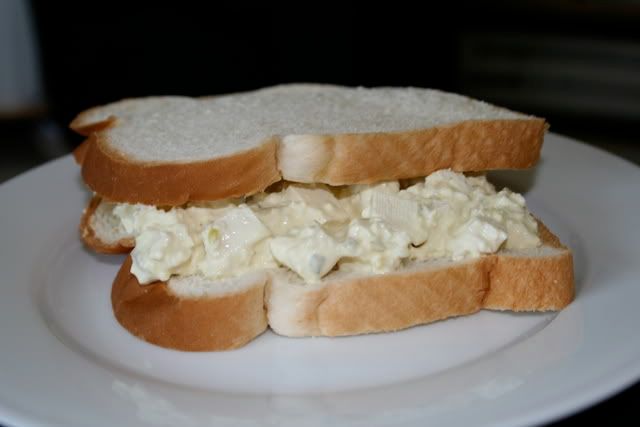 Fake Egg Salad
1/2 brick extra-firm tofu, drained
1/2 cup mayonnaise
1 tsp yellow mustard
1 Tbsp dill pickle relish
Dice tofu into 1/4-inch pieces. Using the tines of a fork, mash about one eighth of the tofu. Add remaining ingredients, combining thoroughly. Serve on bread with desired accoutrement. ; )