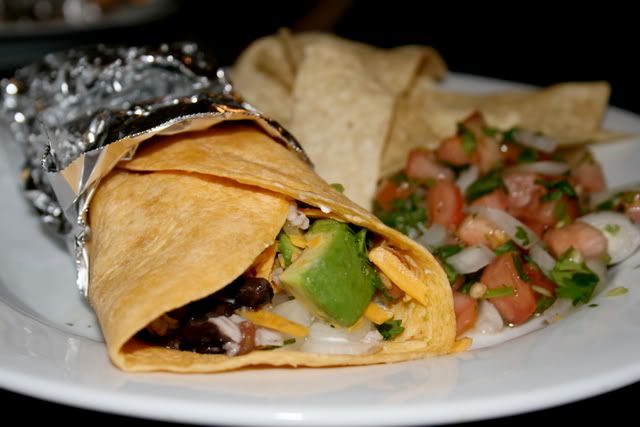 [Updated from 3/2/08 with photos]
I've been craving a Taco del Mar style giant burrito lately, so this is what I came up with. Feel free to use whatever toppings you want. Those listed below are my favorites. You can also add ground beef, grilled chicken, roasted pork, or whatever meat you fancy.
Giant Burritos
big flour tortillas
black beans
steamed rice
shredded cheese
lettuce
fresh cilantro
grilled onions
diced avocado
taco sauce
salsa
sour cream
pickled jalapenos
Heat the flour tortillas in the microwave, until soft and flexible for rolling. Add the fillings of your choice, and roll carefully, tucking in the sides as you go. Grab a sheet of tin foil, and lay the bottom 2/3 of the burrito over one edge of the foil. Fold the foil up over the burrito, and roll the burrito more tightly, using the foil to keep it from unrolling. Kind of like rolling sushi, for lack of a better description, but using the foil instead of a sushi mat. Anyway, roll it up however you want, and eat it. That's the important part.