Ahhh, eggplant parmesan. One of my favorite meals. I don't often make it because most recipes I've tried have called for the eggplant slices to be fried, and since they act like little sponges, I just can't get behind that. I've baked them without ANY oil in the past, but they were too dry. So this time I found the middle ground, and dredged them in an egg/buttermilk mixture, coated them with bread crumbs, put them on a baking stone, sprayed them lightly with olive oil from my kitchen spritzer, then baked them for about 30 minutes. I figured I couldn't go wrong with buttermilk, thinking of how well it works with fried chicken.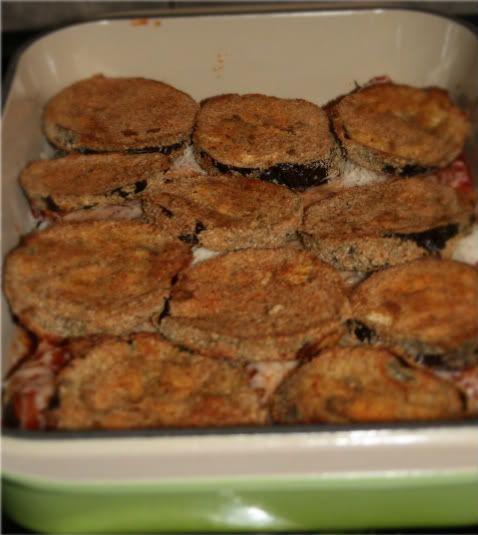 When they came out of the oven, they looked GORGEOUS. I layered them in a large baking dish with sauce and mozzarella cheese, then popped them back in the oven until the cheese was melted and the sauce was bubbly. Awesome.
Eggplant Parmesan
2 batches 
marinara sauce
2 large eggplants
salt
2 eggs
a splash of buttermilk
2 cups breadcrumbs
3 cups shredded mozzarella cheese
Preheat oven to 375.
Slice eggplant into 1/2-inch slices. Sprinkle with salt and set aside for several minutes. Meanwhile, whisk together eggs and buttermilk in a shallow bowl. Pour breadcrumbs into a separate shallow bowl. Pat eggplant slices dry, then dip in the egg/buttermilk mixture, and dredge in the breadcrumbs. Place eggplant slices in a single layer on a baking sheet, preferably stoneware. Spritz with olive oil.
Bake for 20 minutes, then remove from the oven, flip the slices over, spritz with olive oil, and return to the oven. Bake for an additional 10 minutes, or until golden brown. Remove from oven, and reduce heat to 350.
In a 9 x 13 baking dish, spread one ladle of marinara sauce across the bottom. Layer half the eggplant slices, cover with half the remaining marinara sauce, and sprinkle with half the cheese. Repeat layers one time.
Bake at 350 for 25 to 30 minutes, or until cheese is melted and sauce is bubbling.