Portabello mushrooms took me a long time to try.  I've always loved mushrooms since I was a kid, but those giant mushrooms just kind of scared me.  It wasn't until well after college that I finally gave them a try, and, as you can imagine, I immediately kicked myself for waiting that long.  The trepidation still remains, however, for other "weird" mushrooms.  I've cooked with enokis and shitakes before, but all those other mushrooms out there just seem a little too weird.  I always wanted to get Tyler Florence to come do a Food 911 show at my house, and teach me how to cook the other types of shrooms.  But as I doubt that's going to happen, I'm just going to try to figure them out on my own.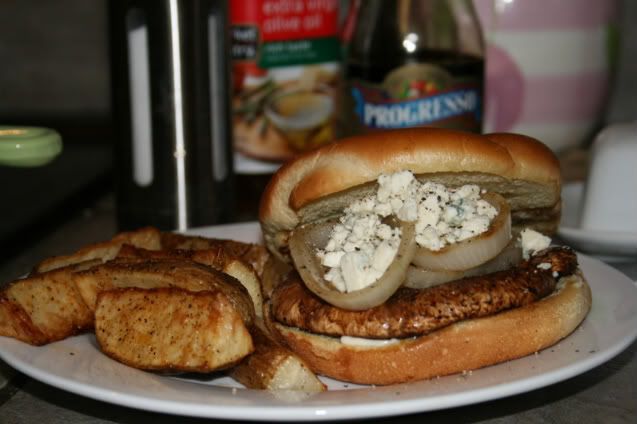 Tonight's dinner was portabello mushroom burgers.  They're so simple that they don't even need a recipe.  I used a spoon to scoop out the stem and the gills, then drizzled them with balsamic vinegar, sprinkled them with salt and pepper, then let them marinate for about 25 minutes.  I preheated a grill pan over high heat and grilled up some sliced onions to go on the burgers, then threw the mushrooms on.  They cooked for about 4 minutes on each side, until they were soft, but not totally shriveled up.
They really look like burgers, don't they?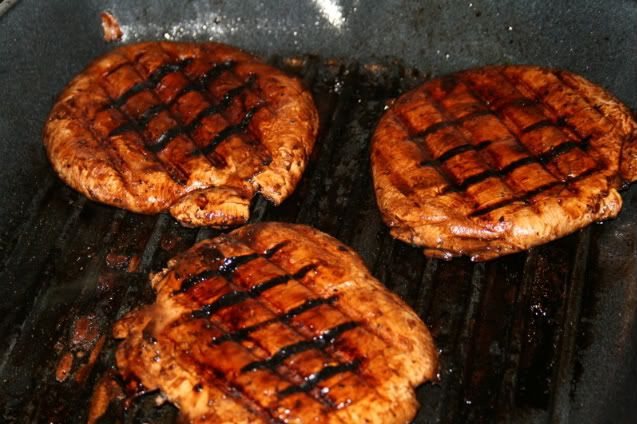 We put them on toasted buns with a little mayonnaise, the grilled onions, and some crumbled blue cheese, and ate them with
roasted potato wedges
.  Delicious!  Brad liked them so much that he ate two!  We'll definitely have these again.