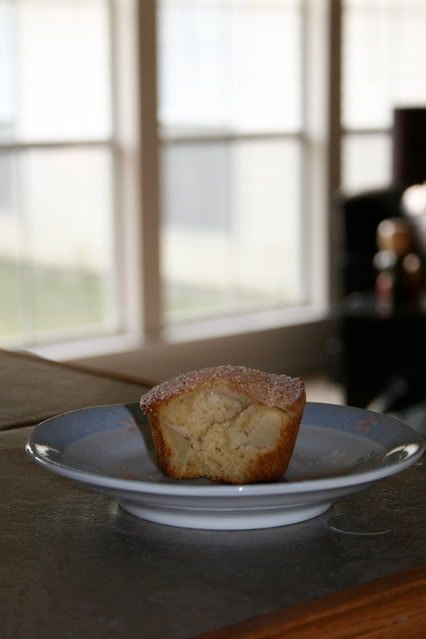 Apple Pie Muffins
2 1/4 cups flour
1 teaspoon baking soda
1/2 teaspoon salt
1 egg
1 cup buttermilk
5 Tbsp butter, melted
1 teaspoon vanilla extract
1 cup sugar
2 cups diced apples
1/2 cup sugar
1/2 tsp cinnamon
Preheat the oven to 350. Spray a muffin pan (I made mini muffins) with cooking spray.
In a large bowl, stir together flour, baking soda and salt. In a separate smaller bowl, mix together the egg, buttermilk, melted butter, vanilla and the 1 cups of sugar. Combine wet and dry ingredients, stirring just until dry ingredients are moistened. Fold in diced apples.
Spoon batter into muffin tins, filling 3/4 full. Bake at 350 for 12-14 minutes for mini muffins, or 22-25 minutes for standard muffins.
While muffins are baking, mix together the 1/2 cup sugar and 1/2 tsp cinnamon in a small bowl; set aside.
When muffins are done, remove from the pan, and dip the tops in the cinnamon and sugar mixture.