This is an easy, go-to recipe for French Bread. It takes some time to make, but the active prep time is minimal.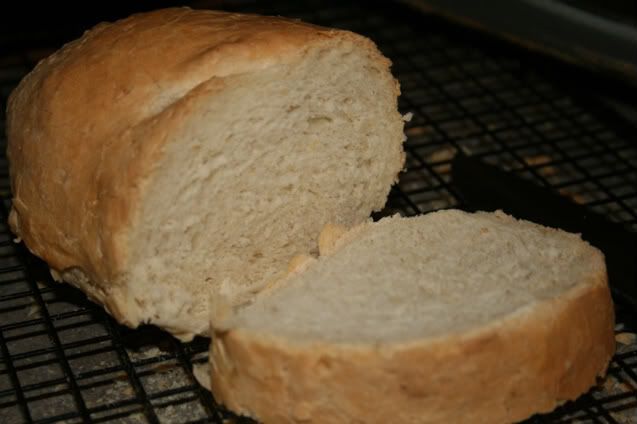 French Bread
3 cups flour
1 package yeast
1 tsp salt
1 cup warm water
Combine 1 cup of the flour, and the remaining ingredients in a large stand mixer, using the paddle attachment. Mix for several minutes, until well blended. Add remaining flour and mix until it forms a stiff dough. Switch to the dough hook, and knead for 10 minutes, until dough is soft and elastic. Add flour as needed if the dough is too sticky.
Grease a large bowl, form dough into a ball, and place in the bowl, turning to coat. Cover and let rise in a warm place for 1 hour, or until doubled in bulk. I have mine rise in the oven with the light on.
Punch dough down, re-shape into a ball, then cover and let rise again for 30 to 40 minutes.
Roll/flatten dough out into a rectangle, then roll up into a long loaf, pinching seams to seal. Cover and let rise for 30 minutes.
Preheat oven to 375. Place dough on a baking sheet (I use stoneware). Brush dough lightly with water. Make 4 or 5 slashes in the top of the dough, using scissors or a sharp knife. Bake 35 to 40 minutes. I like to pull mine out of the oven after 20 minutes and quickly brush with more water.
Remove from baking sheet and let cool for at least 30 minutes before slicing and serving.