So.  I read about this pie crust made with vodka back in December, and was intrigued.  It's supposed to be the best, most wonderful, flaky, fabulous pie crust.  Humph.  I'm not impressed.  First of all, it was incredibly difficult to work with.  The doug had a completely different consistency than any pie crust dough I've ever used before.  It was almost like a soft sugar cookie dough.  I had to use over a half cup of flour when rolling it out, just so it wouldn't stick to the rolling pin or counter.  Then it was just about impossible to transfer from the counter to the pie.  I tried rolling it around the rolling pin, but it just fell apart.  I tried rolling it in a flour-covered dishcloth, but it all slumped together.  I tried rolling it on the towel and then inverting it over the pie pan, but it fell apart.  Uggggggh!  I finally just ended up patting all the pieces into the pan.  Great.  I had a little better luck with the top crust, but it was still a big mess.
So after all that work, how did it taste?  It was mediocre.  The crust texture is absolutely bizarre.  It's not flaky, it's just super soft and crumbly -- although crumbly doesn't even come close to describing it.  It's just weird.  I would never make it again.  I'm honestly irritated and annoyed that I wasted so much time, and an entire apple pie on this crust.  Grrr.  The filling is fabulous (how can you go wrong with a fresh apple pie?), but unfortunately, the crust is a pretty fundamental part of the pie that can't be ignored.  Meg even hated it and wouldn't finish it.
Oh well.  Live and learn, right?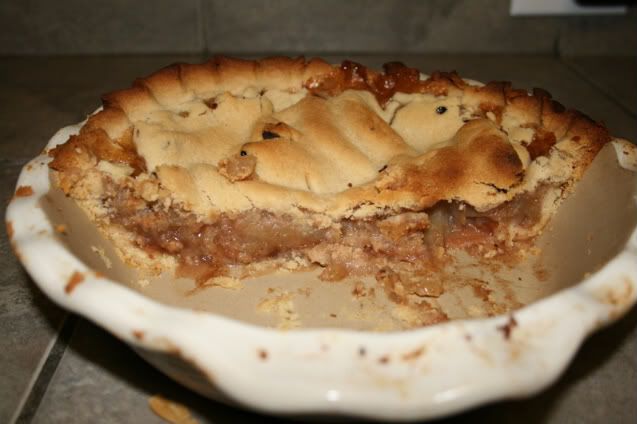 I'm not even going to post the crust recipe, lest someone feel compelled to make it.  I will, however, post a good, standard pie crust, and an apple pie recipe, which is much better.  I think I might make it tomorrow, and just throw the rest of this pie out.
Pie Crust (for a 2-crust 9-inch pie)
2 1/2 cups flour
1/2 teaspoon salt
1 cup shortening, chilled
6 tablespoons ice water
Combine the flour and salt together in a medium size bowl. With a pastry blender, cut in the cold shortening until the mixture resembles coarse crumbs. Drizzle ice water over flour, starting with 4 tablespoons. Toss mixture with a fork to moisten, adding more water a few drops at a time until the dough comes together.
Gently gather dough particles together into a ball. Wrap in plastic wrap, and chill for at least 30 minutes before rolling.
Apple Pie
Pastry for a 2-crust 9-inch pie
8 Granny Smith apples, peeled, cored and sliced
1/2 cup sugar
1 1/2 tsp cinnamon
1/2 tsp nutmeg
3 Tbsp flour
2 Tbsp butter
Prepare pie crust, and place one crust in the bottom of a deep-dish pie pan.
Preheat oven to 425.
Combine the apples, sugar, cinnamon, nutmeg and flour.  Toss to combine.  Pour apples into the pie crust, and dot with butter.  Roll out the top crust, and place over filling.  Flute edges, and cut a few slits in the top crust.
Bake at 425 for 40 to 45 minutes.  If crust browns too quickly, cover the edges with foil.  Let cool for at least 20 minutes before serving.
To make this recipe vegan, replace butter with non-dairy margarine, or omit altogether.