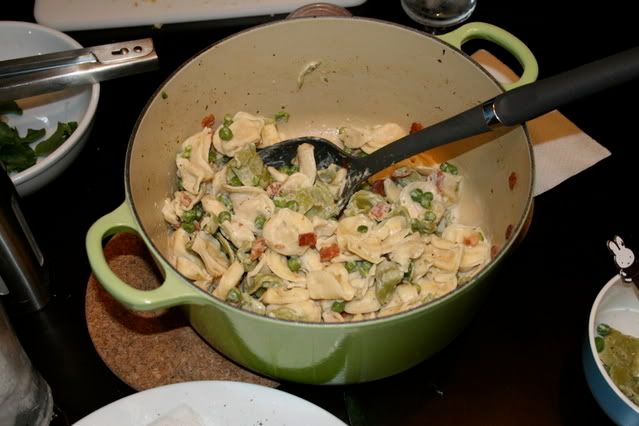 Tortellini & Peas with Garlic Cheese Sauce
1 pkg fresh tortellini
1/2 cup frozen peas
1 small package garlic herb cheese spread, such as Alouette.
Bring a pot of water to boiling, add tortellini and cook per package directions.  Drain pasta, reserving 1 cup of the boiling water.  Return tortellini to hot pan, and add peas and 1/2 cup of the cheese spread.  Stir in 1/2 - 1 cup of the reserved water to melt the cheese and make a light sauce.  Add more cheese or water to achieve the amount of sauce and consistency you prefer.
Notes:  I use only about 1/2 cup of cheese spread, and 3/4 cup of water.  This makes enough sauce to lightly coat the pasta, but not overpower it.   You can also add some bacon bits or chunks of cooked chicken to make this a heartier meal, if desired.