I've been craving salmon something fierce lately, as I mentioned in an earlier post, so we put the at-home vegetarian diet on hold for one day, and I splurged on some gorgeous salmon from Whole Foods. It was no Copper River Salmon (man, I love that stuff!), but it was still yummy.
I went with my standard, go-to salmon prep (olive oil, lemon and dill), and roasted it because we haven't set up our gas grill yet since moving here. I made roasted rosemary baby potatoes, and some simple roasted asparagus to go with it. Great dinner! There are a couple pieces of salmon left, so tomorrow we're going to try making some tuna salad-style salmon salad sandwiches for lunch. I've never had salmon salad like that before, but I figure it's worth a shot. We'll see!
Look how pretty!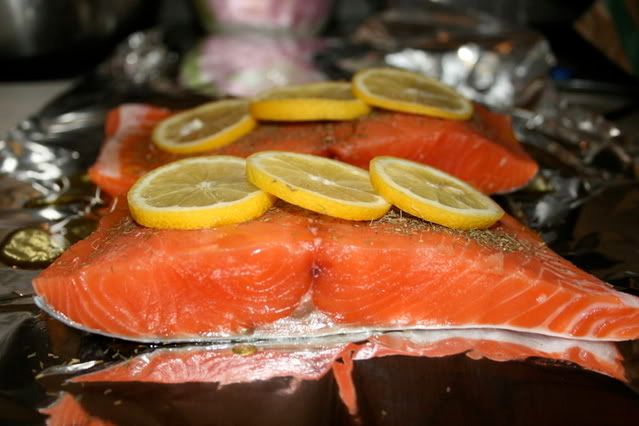 Oven-Roasted Salmon
Salmon filets
olive oil
1 lemon, thinly sliced
fresh dill sprigs, or dried dill
salt & pepper
Preheat oven to 425. Bring one of the racks up to the top third of the oven.
Line a baking pan with aluminum foil. Place salmon filets on foil, skin-side down, and drizzle lightly with olive oil. Lay dill sprigs on top of salmon, or sprinkle with dried dill. Season lightly with salt and pepper. Arrange several lemon slices over the salmon, overlapping slightly.
Bake 12 to 15 minutes, until salmon is cooked to desired doneness. Remove lemon slices, and cut each filet in half crosswise. Using a spatula, gently lift salmon off of the skin; discard skin. Serve warm.