Shortly after moving to Japan four years ago, Brad and I fell deeply in love with shokupan -- Japanese sandwich bread. It's soft and light, and makes the most incredible toast you've ever tasted. It all comes in the same size loaf (about the size of a bread machine loaf), as well as varying slice thickness (6 slices per loaf, 8 slices per loaf, and so forth). We tried not to buy it very often, as it's pretty high in fat, but I've been missing it lately, and decided to try baking my own.
I searched the internet high and low, trying to find a recipe. The problem is that they're all in Japanese, and the translations I've found are sketchy at best. I mixed up some dough this morning, using an ingredient list I found on several websites, but there must be something missing, because the dough was super sticky. Having had lots of experience making bread in the past, I just went with my gut and added flour until the texture seemed right. Hmmmm.
It rose until doubled, then I shaped it into loaves and let it rise again before baking. Upon further online research, I learned that Japanese bread is baked in a lidded loaf pan, which gives it its signature square shape, and gives a more even texture with fewer air bubbles. Unfortunately, I don't have the right kind of loaf pan, so I experimented with baking one loaf with a cookie sheet on top, to act as a lid of sorts, and the other loaf just in a standard loaf pan.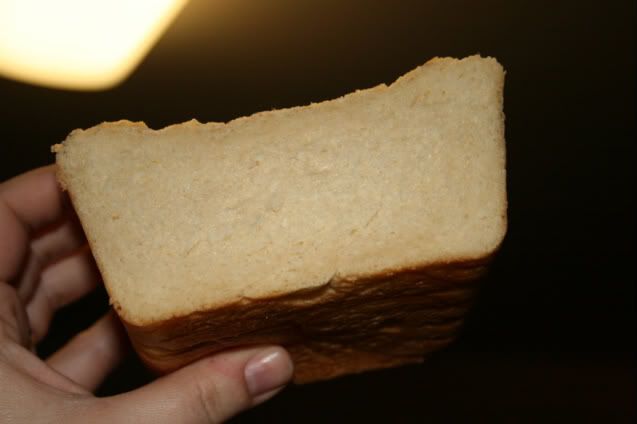 The bread is fantastic! I'm so excited! It's soft, light and uniform, and soooo delicious. The bread in the lidded pan was very close to the shokupan we used to buy, although my loaf pan is so short that we ended up with a very short loaf of bread. Each slice ended up being about as large as a half slice of standard bread, but hey, it still tastes great! I ordered a Pullman pan from eBay UK a few minutes ago, so once it arrives, I'll give this bread another go.
Tonight we had tuna sandwiches on the bread, and I swear we were in heaven. I think tomorrow morning we'll make french toast with it. Yummmmm.
Here's the recipe. I'm particularly pleased with myself because I used skim milk instead of the heavy cream that the recipe called for, and it was still great!
Shokupan
6 oz milk
1 package yeast
Just shy of 1 cup vital wheat gluten flour (I filled a measuring cup to about the 6 1/2 oz line)
Just shy of 1/2 cup all-purpose flour
1 Tbsp sugar
1/2 tsp salt
4 oz milk
2 Tbsp shortening, melted
additional flour
Heat milk until warm but not hot. Add yeast, stir to combine, and set aside for about 10 minutes.
Combine vital wheat gluten, all-purpose flour, sugar and salt in an electric mixer. Add milk and yeast mixture, beating until gluten strands develop. Add remaining milk and melted shortening. Add additional flour until a bread dough texture is reached. Change to a dough hook in the mixer, and knead for 10 minutes, adding a little flour as needed, until dough is soft and elastic, but not sticky. Shape into a ball, and place in a greased bowl, turning to coat. Cover with a dish towel and let rise in a warm place until doubled in bulk, about 1 hour. I place mine in the oven with the light on.
Punch down dough. Grease 2 loaf pans. Divide dough in half. Divide each half into thirds. Flatten into narrow rectangles, and roll tightly into balls. Place 3 rolls side by side in each loaf pan. Cover and let rise for 1 hour, until dough rises to the top of the pan.
Preheat oven to 400. Spritz tops of loaves with water. Bake 10 minutes at 400, then reduce temperature to 325 and bake an additional 10 to 20 minutes, until loaves are browned and sound hollow when tapped.
Let cool completely before slicing, or the loaves will go flat. It's hard to wait, but you'll be glad you did!