Wednesday's dinner was delicious! I marinated tempeh in a spicy sauce, then grilled it in my Le Creuset grill pan, and served it with Spicy Cajun Potato Wedges, and a simple salad with lettuce, corn and Coco's dressing. Brad loved the tempeh, and wants to try making hot wings with this marinade some time. Yum!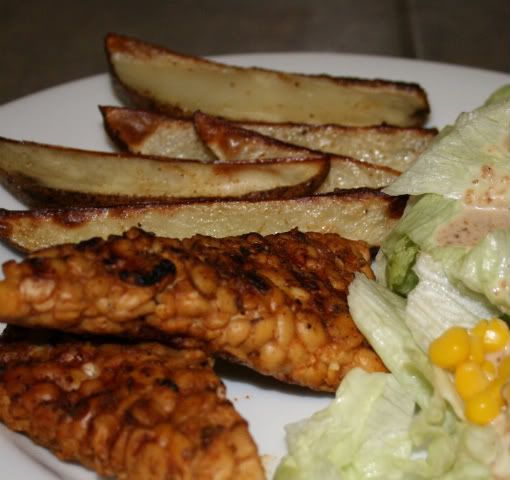 Spicy Grilled Tempeh
1 8-oz package tempeh
2 Tbsp olive oil
1/4 cup mirin
1 Tbsp Tabasco Sauce
2 Tbsp lemon juice
1 tsp sesame oil
salt & pepper
Bring a medium pot of water to a boil; add tempeh and boil 10 minutes.
Meanwhile, whisk together remaining ingredients in a wide, shallow bowl. When tempeh is done boiling, cut it in half crosswise, and then cut each half diagonally to make 4 triangles. Add tempeh to the marinade, and marinade at least 1 hour, turning as needed to make sure it marinades evenly.
Grease a grill pan with cooking spray, and heat over medium-high heat. Grill tempeh for 4 to 5 minutes on each side. Drizzle each side with marinade right before flipping. Serve hot.