[I cooked this again tonight (original post was 2/16/08), and snapped some pictures this time. The store was out of fresh basil, so I just used dried basil and oregano, and it worked in a pinch.]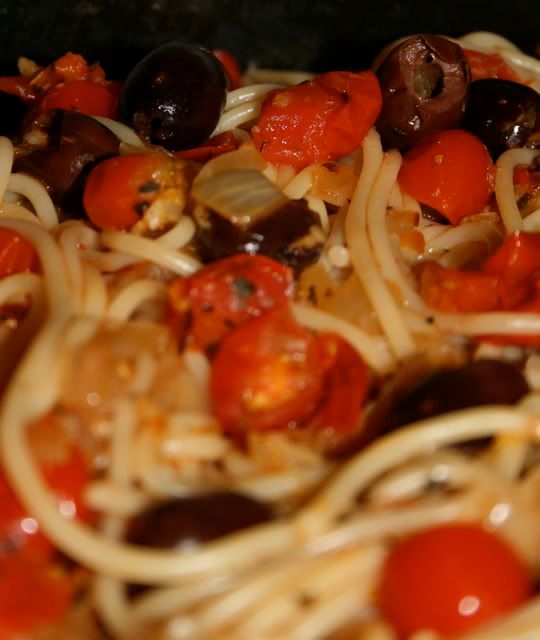 I almost didn't cook dinner tonight because I'm not feeling great, but Brad was hungry, and I knew this would only take a few minutes to throw together.  I'm so glad I did, because it was delicious!  If you find yourself pressed for time, definitely try this recipe.  It all comes together in the time it takes the pot of spaghetti to cook.  You can't beat that!  It makes enough for 2-3 very hearty servings.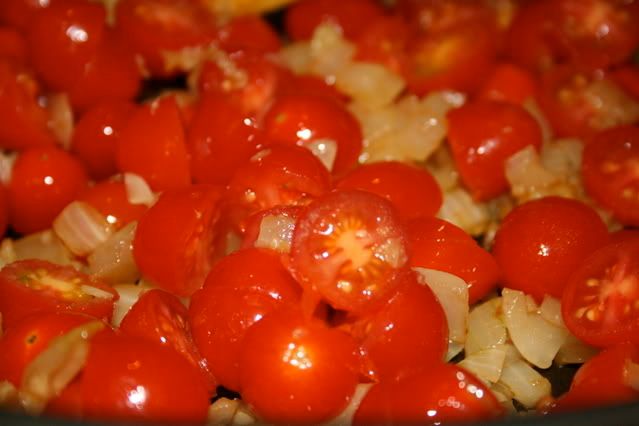 Pasta with Rustic Tomato, Basil & Kalamata Olive Sauce
1/2 lb spaghetti
1 Tbsp olive oil
2 cloves garlic, minced
1 small onion, diced
1 tsp crushed red pepper
1 pack cherry or grape tomatoes(about 2 cups), cut in half
1/2 cup kalamata olives, pitted
1 bunch fresh basil, coarsely chopped
1/2 to 1 cup water
salt & pepper, to taste
Prepare spaghetti per package directions.  While pasta is cooking, heat olive oil in a large skillet over medium-high heat.  Add garlic, onion and red pepper; cook and stir until the onion is translucent.  Add tomatoes, cook and stir for several minutes, until the tomatoes break down.  Stir in basil and kalamata olives.  Add water to bring sauce to the consistency you desire.  I prefer a thicker sauce, so I only used about 1/2 cup.  Salt and pepper to taste.
About this time the spaghetti should be done cooking.  Drain it (I use tongs to just grab it out of the water) and add it to the sauce.  Toss to combine thoroughly.  Serve immediately.