Well folks, I am once again boring. Last night I made the super yummy Black-eyed Pea Salad, which is quick becoming a standard for us, except this time I used garbanzo beans and edamame instead of black-eyed peas. It was delicious, satisfying and sooo easy. I didn't get any pictures because I was sick yesterday, and it's something I've made bunches of times already.
Tonight we're having leftovers from work. This is decidedly not a vegan meal, but it just seemed the responsible thing to do, since it's free. It was really yummy, spicy, creamy pasta with chicken (which I picked out of my serving) and garlic bread. Look at it! So delicious!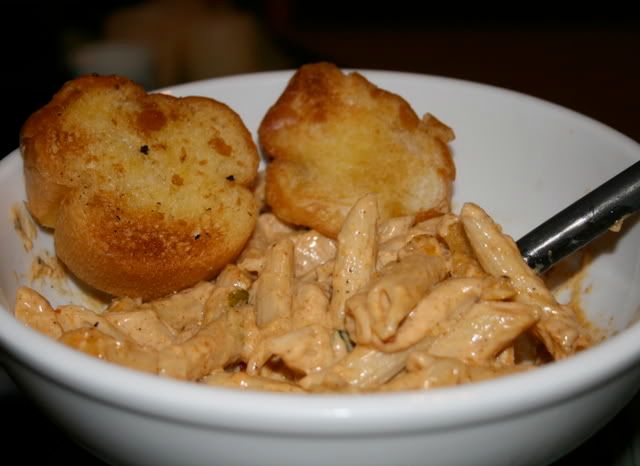 And now, I have to say that I'm really torn. I love to cook, and I love cooking and eating vegan food. It's important to me for so many different reason, all of which I've detailed before. But I'm torn, because nearly every single day there are scads of leftovers at work. If I don't bring them home, they get dumped in the garbage. I'm not talked about just the meager pickings left after everyone has eaten; I'm talking about entire untouched pans of food. Last week I brought home a massive pan of lasagna. Today I brought home more pasta than would fit in a 9x13 pan, and at least 4 baguettes' worth of garlic bread. It seems downright wrong to let that food be thrown away. The problem is that almost none of it is vegan. So what do I do? One of the biggest reasons I'm vegan is because of the global ramifications of a non-vegan diet. It's such a gross misuse of resources. But what's worse? To let days' worth of food be throw in the garbage because it's not vegan, or to go ahead and eat it and not take up any more resources in buying other food? I am really, really torn. I love to cook, and I want to adhere to a vegan diet, but it seems stupid to spend money on groceries every week, when I could feed our family almost completely on leftovers from work.
So what to do? Any insight would be greatly appreciated. I'm just not sure what do about this. :sigh:
In other news, I registered for my Fall semester classes last night, and I am SO excited to get started! Classes start in about 4 weeks, and I'm dying to dive into them. I'm taking all upper-level classes this semester, which should be a lot more fulfilling. Yippee!
I'll leave you with a picture of something I made last week, but forgot to blog about. These are spinach and mushroom enchiladas, which I was not terribly pleased with. They were good, but not great. I also made spanish rice with green sauce, and refried beans from scratch. Overall a very satisfying meal, although I'll tweak the enchiladas quite a bit next time.