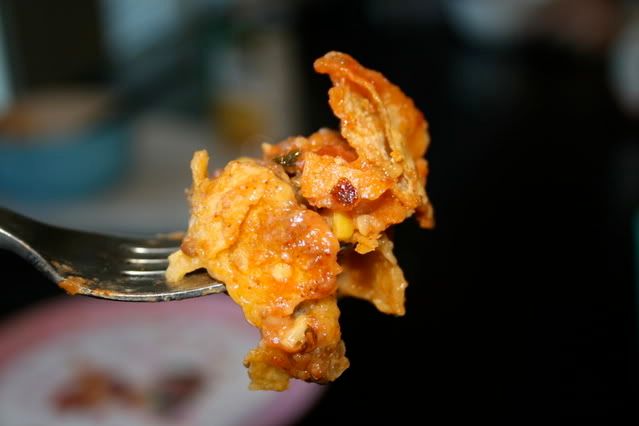 Now, I know that this dish has an unappealing name, but it's so much better than it sounds! It's basically a nacho casserole -- taco meat, crushed tortilla chips, cream style corn, salsa and cheese layered together, then baked until hot and bubbly. The cream style corn sounds strange, but coming from someone who absolutely hates cream style corn, it works in this recipe, and it wouldn't be the same without it. The sauce from the corn helps bind the ingredients together, and adds some great flavor.
Next time I make this, I'm going to use Morningstar Crumbles instead of ground beef, or maybe even some drained and rinsed black beans, cooked with the taco seasoning. We have pretty much fallen off of our vegetarian game lately, and need to get back on track. But for tonight, this really hit the spot!
Ready to bake.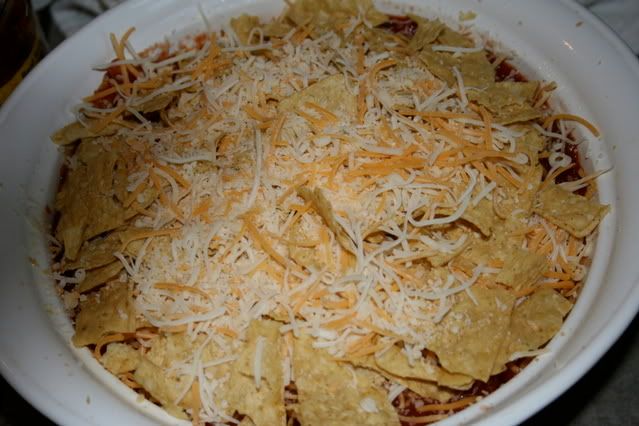 And out of the oven.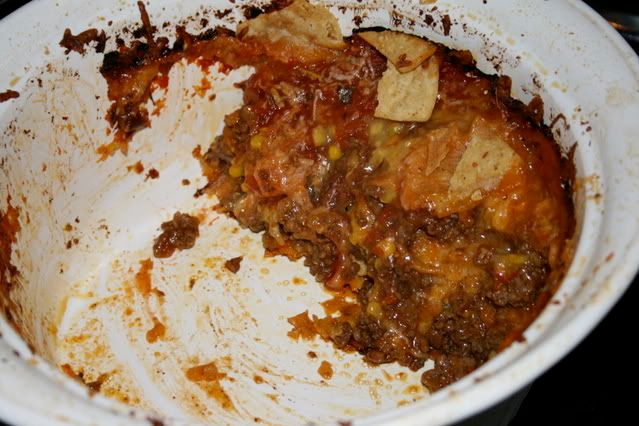 Nasty Nachos
1 lb ground beef
1 pkg taco seasoning
1 bag tortilla chips
1 can cream style corn
2 cups grated cheddar cheese
1 jar of salsa
Preheat oven to 400.
Brown the ground beef; drain well. Mix with taco seasoning according to package directions.
In a greased casserole dish, layer in the order stated:
1/3 package of crushed chips (about 2 handfuls)
½ hamburger mixture
½ can cream style corn
1 cup cheddar cheese
½ jar of salsa (about 2/3 cup)
Repeat layers. Sprinkle remaining crushed chips over the top. Bake until heated through, about 30 minutes. Cover with foil if the chips start to brown too much.
It's not pretty, but it's good!