Finally! A real blog post! With pictures AND a recipe! Hooray!
Tonight we had super yummy, crunchy, crispy, fresh, spicy, zest wraps stuffed with fresh veggies, grilled tofu, and a drizzle of peanut sauce. Oh, baby! I can't even begin to tell you how much these hit the spot. They were exactly what I've been craving! They're also fairly quick to throw together, which is a nice because Brad is taking off in a few minutes to go do his monthly Navy Reserve drill period in New Orleans, so we were able to maximize our time together before he goes.
These are great for a light meal, but if you're craving something heartier, you can also stuff the wraps with jasmine rice and chopped peanuts. Deeeelicious!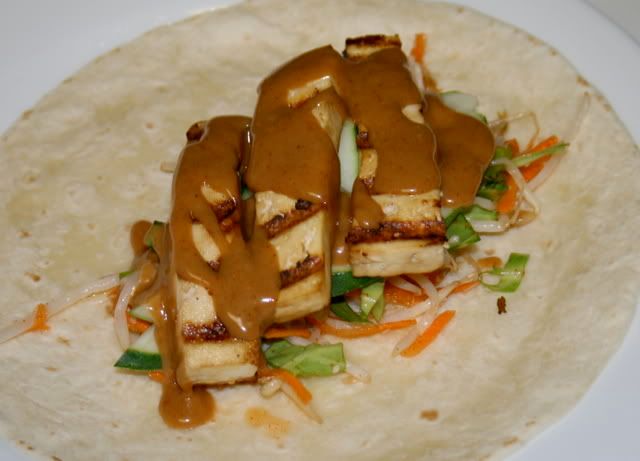 Thai Tofu Wraps with Peanut Sauce
1 block extra firm tofu, drained and pressed
1 Tbsp vegetable oil
2 Tbsp soy sauce
4 leaves green cabbage
1 cup bean sprouts
1 cup shredded carrot
1/2 medium cucumber, thinly sliced
2 Tbsp rice wine vinegar
1 Tbsp sugar
1/2 tsp cayenne pepper
1/2 tsp salt
1/2 cup peanut butter
2 Tbsp soy sauce
1 Tbsp rice wine vinegar
1/2 tsp fresh grated ginger
1 Tbsp brown sugar
1/4 tsp cayenne pepper
Very hot water
Large flour tortillas
Cut the block of tofu in half horizontally, then slice into sticks, about 3/4" x 1/2" x 3". Set aside. Heat a grill pan or Foreman Grill. Brush lightly with vegetable oil, then place the tofu on the grill and drizzle with soy sauce. Grill 3 to 4 minutes per side (no need to flip if it's on the Foreman Grill), or until it firms up somewhat and has pretty grill marks. Set aside.
Toss together the cabbage, bean sprouts, carrot, cucumber, vinegar, sugar, cayenne pepper, and salt. Set aside.
Whisk together the peanut butter, soy sauce, vinegar, ginger, brown sugar and cayenne pepper. Gradually whisk in hot water until it reaches a good consistency for drizzling. Set aside.
Now it's time to assemble the wraps. Heat tortillas in the microwave until soft and pliable. Place a handful of vegetable mixture on the tortilla, top with 3 strips of tofu, and drizzle with peanut sauce. Carefully wrap up and place seam-side down on a plate until ready to serve.
These can be served warm, chilled, or room temperature.