I think I blogged my recipe for Burger for a Bunch back when I first started up this blog, and transfered all of my recipes over here. It's an incredibly old school recipe, something my mom (and her mom, I believe) have been making for ages. It's one of those awesome recipes that has a whole bunch of ingredients, but they're all things that you usually have in your kitchen, so it doesn't require a trip to the store. Gotta love that, right?
Veganizing it was really easy, although next time I think I would just leave out the vegan cheese. It just doesn't taste right, and I'd rather go without it than to have that fake cheesy flavor in it. Other things I changed were using lentils instead of ground beef, and vegannaise instead of mayo, vegan margarine instead of butter, and so forth. Easy peasy!
So yeah...not the most attractive meal, but I don't care! It's good!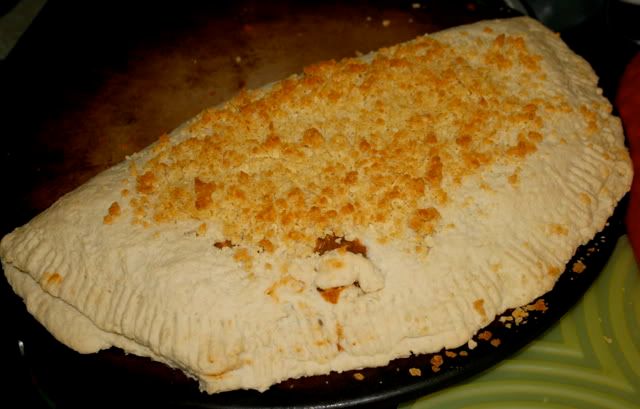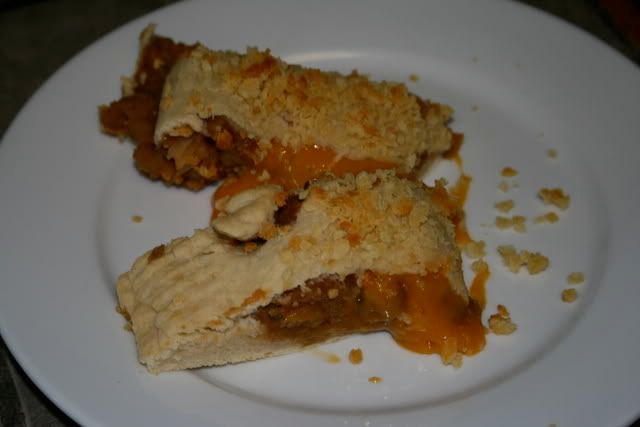 Burger for a Bunch
lentil filling (below)
1/2 cup mashed potato flakes, divided
2 Tbsp. melted vegan margarine
2 cups flour
1Tbsp. sugar
1 tsp. cream of tartar
1 tsp baking soda
1/3 cup vegan margarine
1/2 cup soy milk
1/4 cup vegan mayonnaise
1/2 cup shredded vegan cheddar cheese (optional)
Prepare filling as directed below; set aside.
Preheat oven to 375.
Combine 1/4 cup of the potato flakes with melted margarine; set aside.
In large mixing bowl combine remaining 1/4 cup potato flakes, flour, sugar, cream of tartar and baking soda. Cut in margarine until mixture resembles coarse crumbs. Add milk and mayonnaise; blend until a soft dough forms. Divide in half; shape into balls. Roll out one ball on floured surface to 9" circle. Place on greased cookie sheet. Spread filling to within 1/2" of edge and sprinkle with cheese. Roll out remaining dough and place on filling; seal edges with a fork. Brush with soy milk and sprinkle with reserved potato flake and butter mixture.
Bake for 20-25 minutes at 375 until golden brown.
This recipe may be made ahead of time. Cover and place in refrigerator for several hours or overnight. Bake 375 for 20 -25 minutes.
Lentil Filling
4 cups cooked lentils
1/2 cup chopped onion
1 tsp. salt
1/4 tsp pepper
3/4 cup mashed potato flakes
3/4 cup catsup
1/4 cup sweet relish
1 Tbsp. salad mustard
Saute ground beef, onion, salt and pepper until browned. Add all the remaining ingredients and blend well.