Gingersnaps are one of my favorite cookies, and my mom has the best recipe EVER. My freshman year of college, my roommate would go nuts every time my mom sent them in a care package. I don't know what it is that makes this recipe so awesome, bu you know, it's just one of those things you don't question. They rock. That's enough for me.
I veganized them this evening, with equally fantastic results. The only non-vegan ingredient in the original recipe was an egg, so I just substituted a ground flax seed and water mixture. They were delicious, spicy, crispy on the outside with just a little chewiness in the middle. The perfect gingersnap, in my opinion. Nice! They're great with a cup of tea, or a glass of almond milk. Dig in! Vegan gingersnaps! Hooray!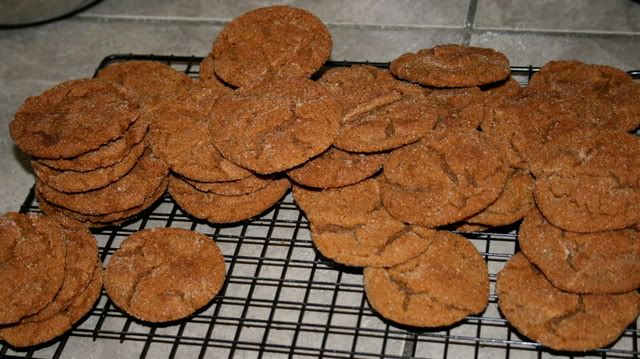 Vegan Gingersnaps
1 Tbsp ground flax seed
3 Tbsp water
¾ cup all-vegetable shortening
1 cup sugar
4 Tbsp molasses
2 cups flour
2 tsp baking soda
1 tsp cinnamon
1 tsp ginger
¼ tsp cloves
Preheat oven to 375.
Whisk together flax seed and water. Set aside.
Cream together shortening, sugar and molasses. Add flax seed mixture, beating well. Sift together dry ingredients and add to batter, mixing well.
Roll into 1-inch balls; roll in sugar. Bake for 8 to 10 minutes for soft, chewy cookies, or 12 minutes for crispy cookies.