This is going to be really short, unfortunately, because it's late and I'm just now getting a chance to sit down and blog. Busy day! Let me just do a quick recap, then I'm off to bed.
I'll start with the TWD scones. They're awesome! Since I'm trying to not eat dairy, and Brad doesn't care for dried apples, I just made cranberry scones instead. Some of the changes I made:
I soaked some Craisins in hot water to plump them up, instead of dried apples
I omitted the cheddar cheese
I used soy milk with vinegar in place of the buttermilk, and a mixture of soy milk and water instead of apple juice,
Instead of an egg, I used 1 Tbsp ground flax seed mixed with 3 Tbsp water, and an additional 1 1/2 Tbsp baking powder,
Instead of butter, I used all-vegetable shortening.
It worked really well! Brad, his mom, and the kids all loved them! I'm still amazed that the egg and buttermilk replacements worked that seamlessly in this recipe. And I absolutely love what the little bit of cornmeal added to the scones! I never would have thought to include that!
I give these scones a huge thumbs up! Woohoo!
Next let's move on to the frozen desserts I made yesterday and today. I ended up not bringing the vanilla custard to work to make ice cream, because it separated and was all weird this morning when I got it out of the fridge. I did bring the pineapple-orange-ginger sorbet, though, and it turned out beautifully! So yummy! Brad bought an ice cream maker on the way home today (after not being able to find one yesterday), and I put the custard in to freeze. I didn't eat it because of the whole dairy thing, but the kids loved it. Hooray!
The sorbet is by far my favorite, though. The orange and pineapple are so fruity and tropical, and the little bit of ginger I added really enhanced the flavors and gave it a nice kick. I love this stuff! But I did that one better. I put it in a glass like so:
...and the I topped it off with Malibu coconut rum. Oh, baby! What an incredible drink! I may have to just keep some sorbet on hand all the time so I can have one of these whenever I want. YUM!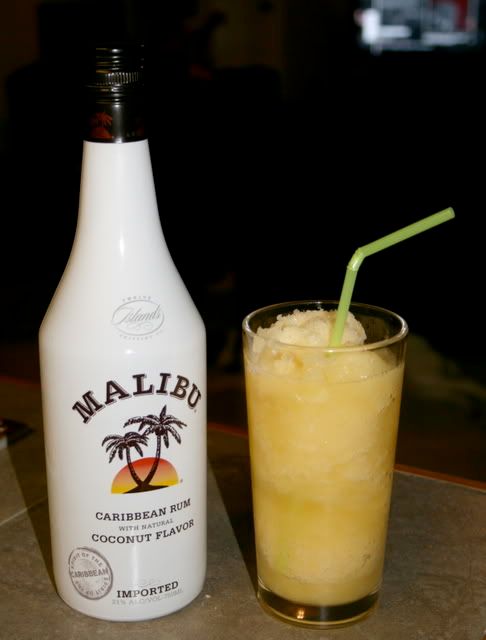 Off to bed for this tired girl. Good night!