When we got Chinese take-out last week, Brad got General Tso's chicken, and I'll admit it: I was jealous. And I set out to make a vegan version. It was surprisingly easy. I found a recipe on allrecipes.com, and it was really tasty. The only thing I would change is the ridiculous amount of cornstarch it called for in the sauce. An entire HALF CUP of cornstarch for less than 2 cups of liquid? Are you kidding me? I should have gone with my gut and used less, but I figured I'd go ahead and try it per the recipe the first time. Big mistake. The "sauce" wasn't even saucy; it was thick gelatinous, jiggly mass. I think 2 Tbsp would be more than enough next time. But the flavor of the sauce was fantastic, and I wouldn't alter the rest of the ingredients a bit.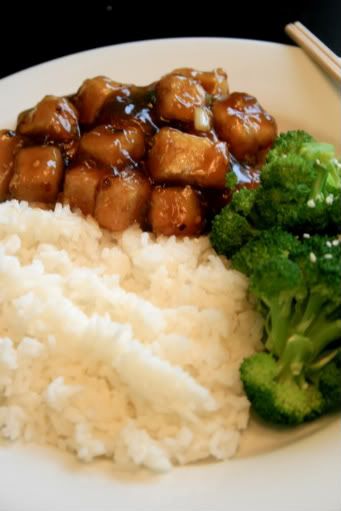 I'm taking leftovers to work tomorrow in my very favorite bento box. I bought this on the shopping street in Kamakura several years ago, but this is actually the first time I've used it. I used to pack bentos for the kids for lunch every day back in Japan, and had tons of fun doing it. I have literally over 100 fun bento boxes, most from the 100 Yen Stores, and accessories to go with all of them. Sooooo fun! Here, though, the kids qualify for free school lunches (poor college students that we are), so I'm not going to throw money away on food if they can get it at school for free, and all those bento supplies are in boxes in the garage. :sigh: I've been using a few of the less kid-oriented boxes to take lunch to work, and dug out this one so I can use it tomorrow.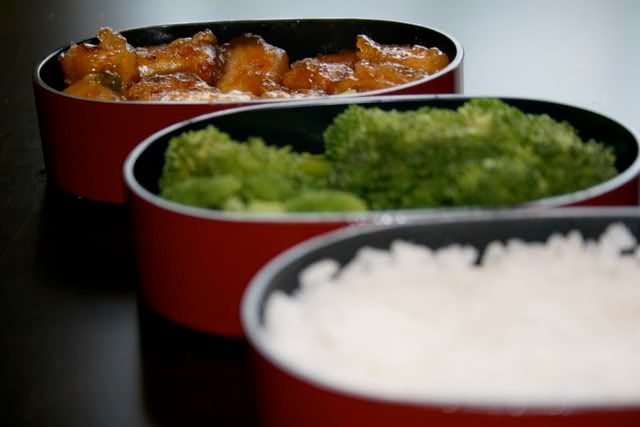 Look how cool it is! Three stacking trays, with a cute little bunny on the lid, and the coolest carrying contraption. I love this bento box!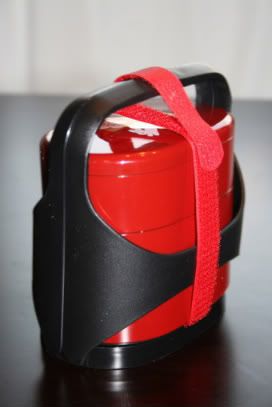 General Tso's Tofu
2 Tbsp cornstarch
3/4 cup water
1 1/2 teaspoons minced garlic
1 1/2 teaspoons minced fresh ginger root
3/4 cup white sugar
1/4 cup soy sauce
1/4 cup mirin
1 package extra-firm tofu, drained and pressed
1 cup cornstarch
1 cup vegetable oil
1 bunch green onions, chopped
1 Tbsp crushed red pepper
Whisk together the 2 Tbsp cornstarch, water, garlic, ginger, sugar, soy sauce and mirin. Set aside.
Heat vegetable oil in a large skillet over medium-high heat. While oil is heating, cut tofu into 0.5" x 1" cubes; toss with the remaining 1 cup cornstarch. Add to hot oil and cook several minutes, shaking occasionally, until tofu is crispy and lightly golden brown. Drain on paper towels, and discard all but 1 tsp oil.
Return pan to heat, and add green onions and crushed red pepper. Cook and stir for 1 to 2 minutes. Whisk soy sauce mixture and add to the pan. Whisk and stir until the sauce boils and thickens. Add tofu and toss to coat.
Serve with rice and broccoli.