Bibimbap is still a work in progress for me. I'm always afraid that I'll burn the rice on the edges, but then I end up taking it off the heat before it develops a good crust. Grrrrr. You'd think I'd learn by now.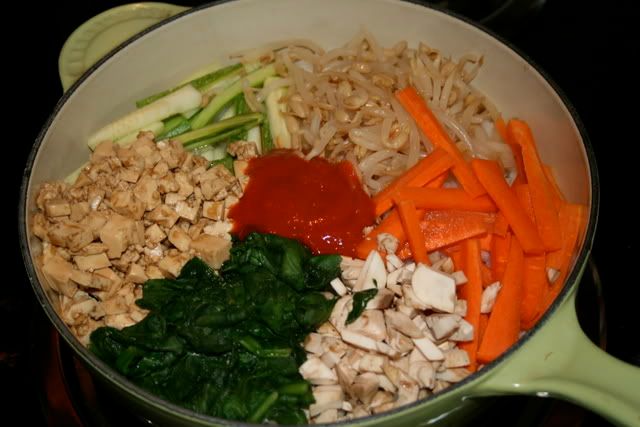 We discovered Bibimbap at our favorite Korean BBQ place in Japan, and we were instantly hooked. I don't have the proper stone bowl for making it at home, so I use a Le Creuset saucier instead. I think I may have Brad suck it up and pay the money for a real stone bowl when he's in Japan next month, but we'll see. The Le Creuset works for now.
This should have a raw egg on top, which is then stirred and tossed with the rice mixture, cooking it sort of like fried rice, but there's no real way to do that and keep it vegan, so we left out the egg. I also substituted diced tofu for the typical ground meat. It was still really good, and incredibly filling. This is not an authentic recipe, just my own attempt to make it as best I can, but I think it's a pretty good approximation. ; )
Bibimbap
2 Tbsp sesame oil
3-4 cups cooked rice
1/2 cup extra-firm tofu, finely diced
1 Tbsp soy sauce
1 tsp sugar
1/2 tsp grated ginger
2-inch section zucchini, julienned
2-inch section carrot, julienned
1/2 cup bean sprouts
1/2 cup spinach, cooked and coarsely chopped
1/2 cup mushrooms, finely diced
2 Tbsp hot chili sauce
Combine tofu, soy sauce, sugar and ginger. Toss gently to coat. Set aside.
Add the sesame oil to a stone bowl, and heat over high heat until smoking, tilting to coat the inside. Add rice, pressing it against the sides and bottom of the bowl. Arrange tofu mixture, zucchini, carrot, bean sprouts, spinach and mushrooms over the rice. Pour the hot sauce in the middle.
Continue heating bowl, if necessary, until rice is crispy and brown on the bottom and edges. Use a spoon to combine the mixture thoroughly, being sure to get the crispy bits off the bottom and edges. Serve immediately.