We first had lentil haystacks several weeks ago, and we were instantly smitten. They're delicious, filling, fresh, and almost ridiculously inexpensive. I figured we would start to eat them all the time, but given my reluctance to repeat recipes very often, we haven't had them again until tonight. And, as with so many other things, I'm kicking myself for not having them sooner. These haystacks rock!
I love that they can be customized to each person's liking. Meg had just rice and lentils. Lydia had rice, lentils, cheese and olives. Brad had rice, lentils, cheese, salsa, onions and sour cream. I had rice, lentils, vegan monterey jack cheese, salsa, onions, olives and cilantro. Fabulous!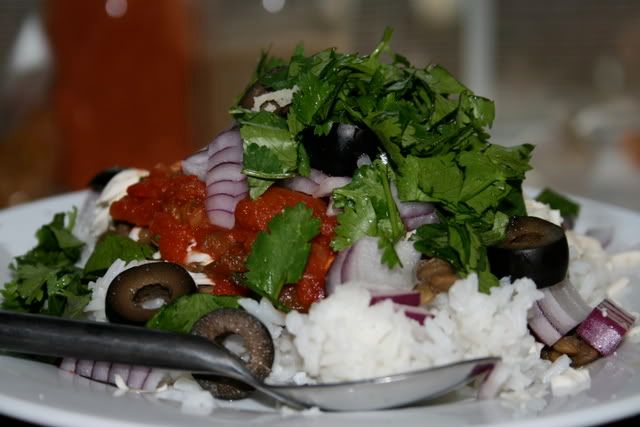 If you're trying to feed your family (or just yourself) on a budget, or if you're just trying to trim your grocery budget, definitely give this recipe a try!
Lentil Haystacks
1 cup dry lentils
4 cups water
4 cups hot, cooked rice (brown or white)
assorted toppings, such as cheese, red onions, sour cream, jalapenos, sliced or shredded vegetables, salsa, olives, capers, salad dressing, etc.
Combine the lentils and water in a medium saucepan. Bring to a boil over high heat, then reduce heat to medium-low and simmer 20 to 30 minutes, until lentils are tender.
Serve lentils over rice, and top with desired toppings.