I haven't had green curry since we were in Japan, which was...good grief, it's been more than 11 months since we left Japan!! Thai Erawan, just off Blue Street in Yokosuka, had the best green curry that I absolutely adored. I bought a tub of green curry paste at Whole Foods earlier this year, as well as a tub of red. I was less than pleased with the red curry paste, so I haven't been really motivated to try the green yet. I found a little packet of green curry paste at World Market last week, and tried it tonight.
It was good! Spicy as hell, but delicious! And look how pretty!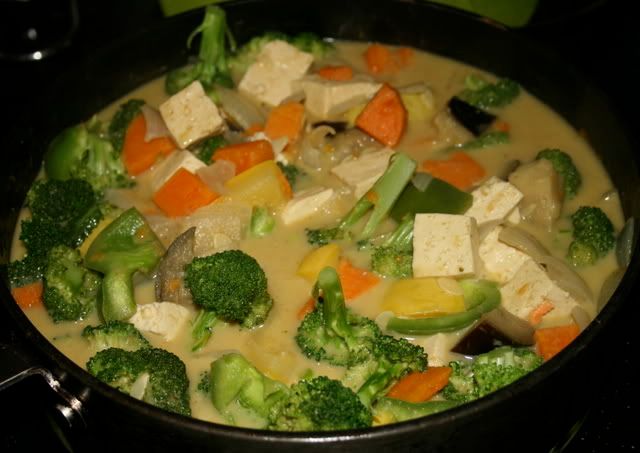 Thai Green Curry Tofu
1 oz green curry paste
1 can light coconut milk
1/2 to 1 cup vegetable stock
1 sweet potato, peeled and cut in 1-inch chunks
1 small summer squash, cut in 1-inch chunks
1/2 medium eggplant, cut in 1-inch chunks
1/2 block tofu, drained and pressed, cut in 1-inch chunks
1 large yellow onion, cut in 1-inch chunks
1 green bell pepper, cut in 1-inch chunks
1 to 2 cups fresh broccoli florets
Hot, cooked jasmine rice
Heat a large skillet over medium-high heat. Add curry paste and saute for 2 minutes. Add coconut milk and vegetable stock, whisking to combine thoroughly. Add sweet potato, summer squash, eggplant, tofu and onion. Bring to a boil. Reduce heat, cover and simmer 15 minutes, or until sweet potato is just tender. Add bell pepper and broccoli. Cover and simmer for 3 to 5 minutes longer, until broccoli is crisp-tender but not soft.
Serve over hot jasmine rice.