Lydia came to me this morning and said that she wanted to cook dinner tonight. This was unexpected because she doesn't usually like to help out in the kitchen. I always give the kids the option of cooking with me, and while Meg always takes me up on it, Lydia rarely does, or loses interest quickly if she does. So imagine my surprise when she suggested it this morning!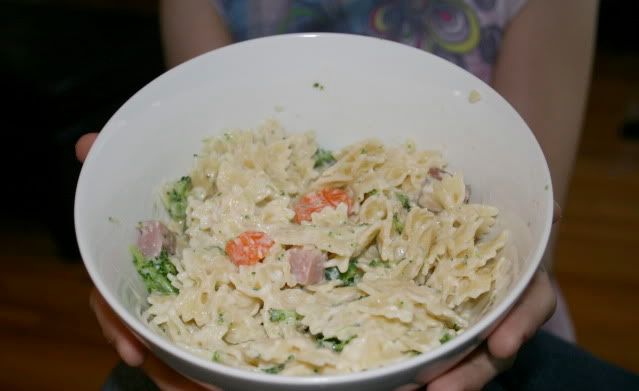 She gave me an idea of what she wanted to make, and I came up with a recipe, wrote it out for her, and set her to work. I drained the pasta since she's a pretty tiny 11 year old and my Le Creuset pot is hella heavy, but she did everything else by herself. She peeled and sliced the carrots, chopped the broccoli and ham, and made her first ever white sauce. Once I drained the pasta, though, I skedaddled off to hang out on the front porch and enjoy the sunshine while she finished dinner.
It. Was. FABULOUS! She did a wonderful job, and all three of us gobbled it up with gusto. Way to go, Lydia!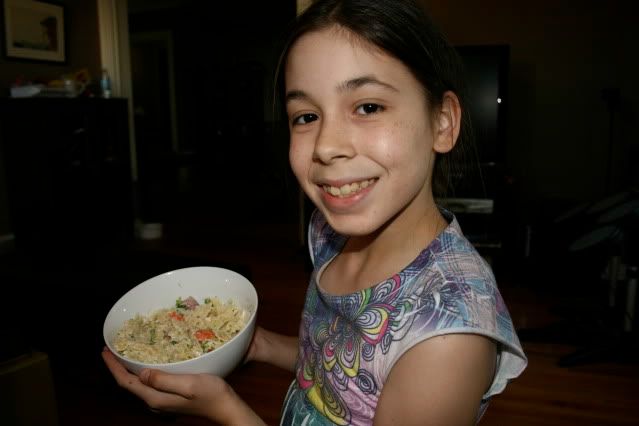 Farfalle Pasta with Carrots, Broccoli and Ham in Parmesan Cream Sauce

12 oz mini farfalle pasta, or pasta of your choice
2 medium carrots, peeled and sliced into 1/4" rounds
1 medium head broccoli, cut into small florets
olive oil
1 ham steak, cut into 1/2" dice
4 Tbsp butter
4 Tbsp flour
1/2 tsp salt
1 1/2 cups milk
1 1/2 cups fresh grated parmesan cheese
Fill a large pot with well-salted water and bring to a boil. Add pasta and cook as directed. When 4 minutes of the cooking time remain, add carrots and broccoli. When pasta is done, drain. Add ham to the pasta mixture, toss with olive oil to prevent sticking, and set aside.
Melt butter in a large skillet over medium heat. Add flour and salt and stir until it forms a paste and just begins to bubble. Add milk, cook and stir constantly until mixture boils and thickens. Remove from heat, add parmesan cheese, and stir until cheese is melted.
Combine pasta mixture with sauce, and toss to combine. Serve immediately.