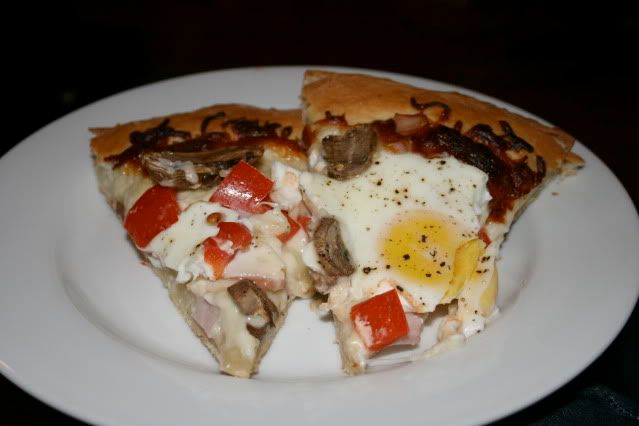 I saw
this recipe
on
Smitten Kitchen
awhile back, and have been dying to try it ever since. Pizza is one of those things I'm reluctant to make unless there's someone else to help me eat it, and with Brad gone...well, that just doesn't happen too often. On pizza night, I typically make a double batch of dough...enough to make one full-sized pizza and two or three mini pizzas for the kiddos, but when Brad's deployed, that's just too much pizza for the three of us. Perhaps I could solve that problem by not making a double batch, but I'm one of those people who tends to get stuck in the "this is the way we do it because it's the way we've always done it" kind of ruts, and this is what it gets me.
But lucky me! My friend Cheryl (yes, we have the same name) is visiting this week, and this gives me the perfect opportunity to have pizza tonight while still sticking to my double-the-recipe pizza night formula. The kiddos had one mini pizza with canadian bacon and pineapple and one with pepperoni, which left half the batch of dough for The Cheryls to try out Smitten Kitchen's breakfast pizza! Hooray!
I used my
favorite go-to pizza dough recipe
, then glazed it with olive oil, then topped it with mozzarella cheese, canadian bacon, mushroom, red bell pepper and 4 eggs. It baked at 420 for 30 minutes.
Were I to do this again, I would only bake it for the standard 20 minutes that I usually bake pizza, because the eggs didn't have runny yolks like I had hoped, they were more like hard boiled eggs. I checked it after 20 minutes, however, and was afraid that the eggs were still raw, but next time I think 20 minutes would have done it. 25 minutes, tops. I'll definitely try this recipe again, and give the whole single batch recipe thing a try. What can I say? I'm still learning to cook for 3, not 4. I'll get it right next time.
Breakfast Pizza

1 batch pizza dough
2 Tbsp olive oil
2 cups shredded mozzarella cheese
4 slices canadian bacon, coarsely diced
1 cup sliced mushrooms
1/2 red bell pepper, diced
4 large eggs
salt & pepper
Preheat oven to 420. Prepare pizza dough and pat onto pizza pan. Drizzle with olive oil and spread to coat evenly. Cover with cheese, and evenly distribute bacon, mushrooms and bell pepper, leaving room for 4 eggs. Crack eggs directly onto pizza, and sprinkle with salt and pepper. Bake at 420 for 20-25 minutes, or until egg whites are just set and yolks are still slightly runny. Serve warm.
Yield: 1 large pizza