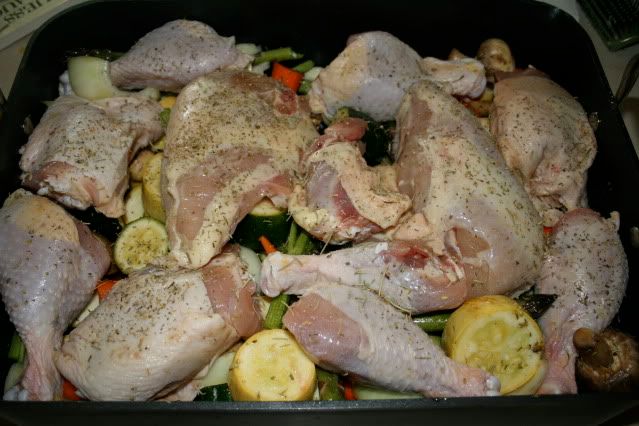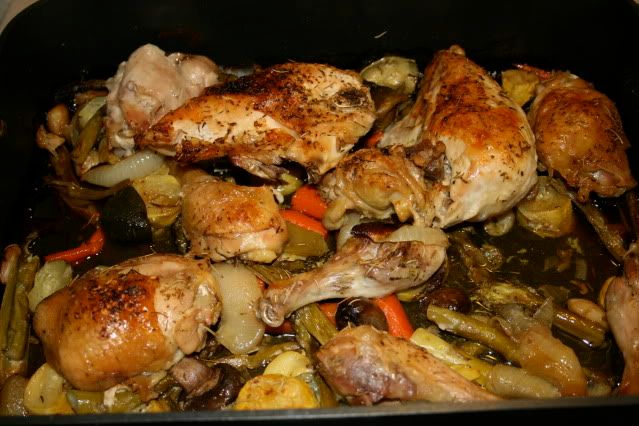 Tonight's recipe is inspired by photos a friend took of her dinner last night, and posted on facebook. I was all but drooling as I looked at them, and went out today to buy chicken so I could make it tonight!
I joined a CSA for the first time this year, and have loved getting weekly deliveries of fresh, organic and mostly local produce. Many of the items I've been getting are new to me, so it's been fun to be coaxed out of the rut it's so easy to settle into, and rise to the challenge of experimenting with new foods. Tonight's dish uses most of my usual staples, but it's exciting to know that every vegetable in the dish is supporting my local farming community. How cool is that?
This dinner is so easy, it's almost embarrassing. I used a huge, deep roasting pan and filled it with chunks of zucchini, summer squash, carrots, celery, onion, asparagus spears, whole garlic cloves and button mushrooms, all tossed together with olive oil, rosemary, oregano, salt and pepper. Then I laid pieces of bone-in, skin-on chicken breasts, legs and thighs on top, drizzled with a little more olive oil and herbs. It roasted, covered with foil, at 425 for 1 hour, another 20-30 minutes with the foil off, then a few minutes under the broiler to crisp up the chicken skin. You might be able to get by with less roasting time, but I'm kind of paranoid when it comes to undercooked chicken, so I cooked it longer just to be on the safe side. This really couldn't be easier, and my house smells incredible!
If I were to do this again, I'd roast the chicken for the first 45 minutes, then add the veggies at that point. The veggies were way overcooked and mushy. They still tasted incredible, but I'd prefer they have a little bite to them next time -- and believe me, there will be a next time. This dish is fantastic!
I also whipped up some lightly sauteed red chard and garlic scapes, also from this week's CSA delivery, cooked in sesame oil and seasoned with ginger, kimchee, salt and sugar. Weird combination of flavors, I know, and a totally different palate from the roasted chicken and veggies, but it's seriously yum! I'm sorry I don't have a picture of it, but I scarfed it down while I was waiting for the chicken to finish roasting. ;)