Another new recipe!
You know, sometimes I wonder if maybe there's something wrong with me, that I have such a strong aversion to repeating recipes. Yeah, there are a few go-to recipes that I come back to, but they're few and far between, and outside of those, I really prefer to try something new than go with something tried and true. What's up with that? My friend Susan (hey, lady!) told me several years ago about a friend of hers who had been in a competition with her sister and mother, to see who could go the longest without repeating a recipe (dinner only, I think, but I'm not sure). I believe that she said the sister won, by going something like two years without any repeats. A woman after my own heart! I have a ridiculously long list of new recipes I want to try, and more are added every day. I find them on blogs, Tastespotting, in cookbooks and from friends. Given that, it almost seems silly to repeat recipes very often, because how else will I work my way through that list?
So here's one from the list! It's a salad made of lentils and orzo, with some fresh veggies and a delightfully perky curry-spiked vinaigrette. This was good enough that we ate it two nights in a row, even! It was delicious with a little french bread on the side.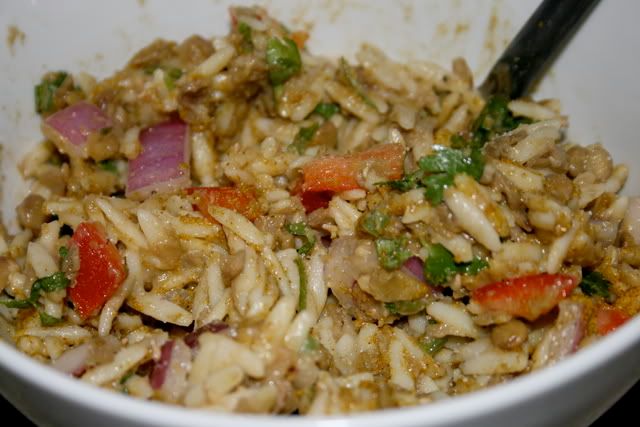 Lentil Orzo Salad
4 cups cooked lentils, drained (do not overcook; you want them to hold their shape)
4 cups cooked orzo, drained and rinsed with cold water
1 medium red onion, diced
1 red bell pepper, diced
1 jalapeno, finely diced
1 handful cilantro, chopped
2 lemons, juiced
1/4 cup olive oil
1/4 cup rice wine vinegar
1 Tbsp agave nectar (can substitute 2 Tbsp sugar)
1 Tbsp curry powder
1/2 tsp salt
1/4 tsp fresh ground black pepper
In a large bowl, combine lentils, orzo, onion, bell pepper, jalapeno and cilantro. Mix gently. In a small mixing bowl, whisk together remaining ingredients. Pour over lentil mixture and toss gently to combine. Chill before serving, if desired, or serve at room temperature.