This recipe is a spin-off of the
Pumpkin Baked Ziti
I made when my mom was here in August. Brad's not a pumpkin fan, as I've mentioned before, so I wanted to tweak that recipe into something he would enjoy. It was creamy, delicious, and thoroughly satisfying. Yum!
For the ricotta cheese, I used the almond-tofu ricotta recipe from Veganomicon (I've said it before, and I'll say it again: go get yourself a copy of that cookbook! It's the best!), and I made fresh bread crumbs from a loaf of Italian bread. Brad stirred some crumbled feta cheese into his serving, but I ate it as-is.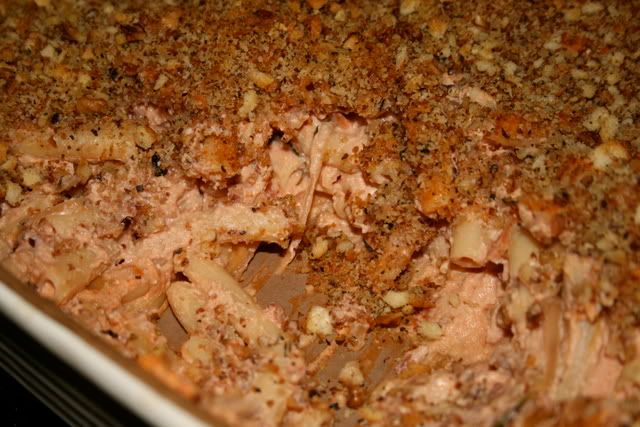 I don't think I've blogged about this yet, but I'm extremely happy to announce that, since switching to a primarily vegan diet in mid-June, I've lost 26 pounds! And Brad has lost 10 pounds since he got back from Japan last month, and became a full-time vegetarian! That's without altering our lifestyle at all, aside from no longer eating meat. I'm thrilled about that! I still have a long way to go to meet my long-term weight, health and lifestyle goals, but I'll get there. I'm off to a good start! I feel fantastic, and so much lighter (no wonder!). I've been hauling a heavy tote bag to class with all my books and notebooks in it, and on a whim the other evening, I weighed it to see how much it weighed compared to how much I've lost. It came in at 15 pounds -- a little over half of what I've lost -- and was an excellent tangible way to see how much I'm no longer hauling around every day. No wonder I feel better!
Baked Ziti with Basil Bread Crumbs
1 pound ziti
1 Tbsp olive oil
1 large onion, thinly sliced
1 bunch fresh basil leaves, coarsely chopped
2 cups vegan ricotta cheese
1 15-oz can tomato sauce
1 15-oz can diced tomatoes
1/4 cup olive oil
1 Tbsp dry basil
1 tsp dry oregano
2 cups fresh bread crumbs
1/2 cup walnuts, coarsely chopped
Preheat oven to 375. Prepare a 9x13 baking dish with cooking spray.
Cook ziti per package instructions.
While pasta is cooking, heat 1 Tbsp olive oil in a large skillet over medium-high heat. Add onions and basil; cook and stir until onions are deeply browned and caramelized. Set aside.
Drain pasta. In a large mixing bowl, combine pasta, onion mixture, ricotta, tomato sauce and tomatoes, mixing thoroughly. Pour into prepared baking dish; set aside.
With a paper towel, wipe out the skillet used for the onions. Heat 1/4 cup olive oil over medium-high heat, then add basil and oregano. When the herbs begin to sizzle, add the bread crumbs and walnuts, tossing to coat with oil. Cook and stir several minutes, until the mixture begins to brown. Spread evenly over the pasta mixture.
Bake at 375 for 25 to 30 minutes.