Tonight's dinner is so easy, it's almost embarrassing. I'm glad for it, too, because I was gone 12 hours today for class, and was hungry when I got home! This dinner utilized leftover pico de gallo from last night, which was an awesome, easy way to flavor the beans. Brad roasted a couple sweet potatoes for me before I got home, so I diced one up and added it to my beans and rice. Awesome, instant nutritional boost, and it tasted great!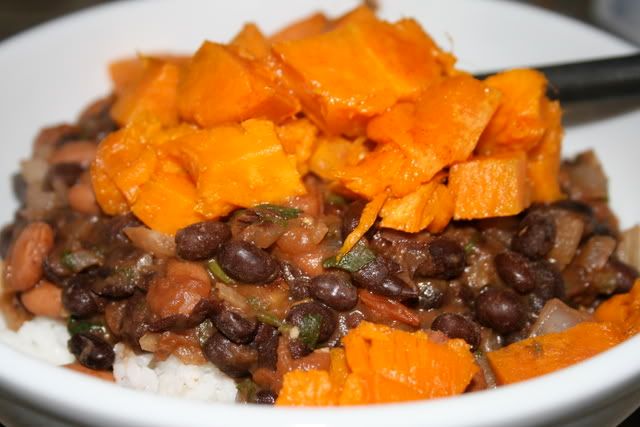 Give this recipe a try if you find yourself with leftover pico de gallo, and are pressed for time. It's delicious!
Black Beans & Rice
1 tsp olive oil
1 to 2 cups pico de gallo
2 cans black beans, drained and rinsed
1 tsp chili powder
1/2 tsp cumin
cooked rice, hot
1 cooked sweet potato, diced (optional)
Tabasco sauce (optional)
Heat olive oil in a skillet over medium-high heat. Add pico de gallo, beans, chili powder and cumin. Cook and stir until heated through. Serve over rice. Top with sweet potato and season with Tabasco sauce, if desired. Dig in!