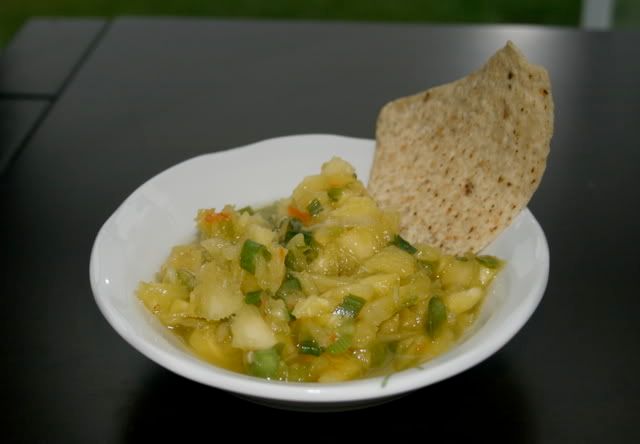 This is the fabulous salsa I made for yesterday's football game. It's super spicy, so consider yourself warned! The only habanero peppers they had at the store yesterday were itsy, bitsy, tiny ones, each about the size of a dime, so I used three. Yowza! Those three tiny peppers packed a wallop! I really love the salty-sweet-tangy-spicy nature of this salsa.
I mentioned in yesterday's blog that I would like to try roasting the pineapple next time. I bet it would taste great!
Pineapple Habanero Salsa
1/2 medium pineapple, peeled, cored and coarsely chopped
Reserved pineapple juice
1 small red or green bell pepper, diced
3 medium green onions, thinly sliced
1 habanero pepper, seeded and minced
1 Tbsp fresh grated ginger
1 lime, juiced
1/2 teaspoon salt
1 Tbsp agave nectar (can substitute honey, molasses or sugar), to taste
Mix all ingredients, including reserved pineapple juices, in medium bowl. Cover and let stand at least one hour at room temperature. Serve with tortilla chips for dipping.