This has been one of my go-to recipes for over ten years. I found this recipe in a magazine when I was pregnant with Lydia, and it's been a menu staple ever since! There are only 5 ingredients, and it cooks up in minutes. You can't beat that!
It's one of Brad's favorite things that I cook, so I wanted to try to vegetarianize it for him. Instead of browning chicken breasts in a skillet, I grilled tofu on the Foreman Grill. I also used plain couscous instead of the parmesan variety, and I left the feta cheese off of my serving, but Brad happily smothered his with it. I can't blame him. I love (and miss) feta cheese!
The verdict? It was good. I do prefer chicken to tofu when it's cooked this way, but the tofu was still a fine substitution, and one I was glad to make. And I missed the feta, but there was still plenty of flavor in the tomatoes, so it was still good without it. I'll count this one a success!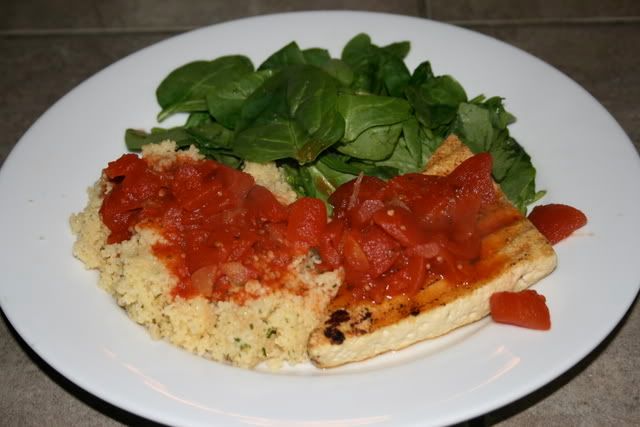 Tomato-Feta Chicken with Couscous
4 chicken breasts
1 can diced tomatoes (do not drain)
1 box parmesan couscous
1 bag fresh spinach
1 pack tomato-basil feta cheese
Pan-fry the chicken breasts in a little olive oil till nicely browned on both sides, then add the can of diced tomatoes (juice and all). Cover and simmer till the chicken is done.
Meanwhile, prepare the couscous and steam the spinach.
To serve, make a bed of spinach on each plate, then top with a piece of chicken and spoon some tomatoes and sauce over top; serve the couscous on the side. Sprinkle a little tomato-basil feta cheese over all.