This week has been really odd. It's the least I've cooked in a week in a long time, but we've had things going on, plus we ate leftovers earlier in the week, so all that amounts to less cooking. And it kind of bums me out.
Tonight I got back in the kitchen, and it perked me up! I made a batch of
hummus
(God bless my mother for giving me a Cuisinart food processor for Christmas!), and I heated up some leftover
kofta
in a skillet. We put them in pita sandwiches with hummus, lettuce, tomato and red onion with a splash of grapeseed oil, red wine vinegar, dill and oregano, then sprinkled them with a little feta cheese.
Isn't it pretty?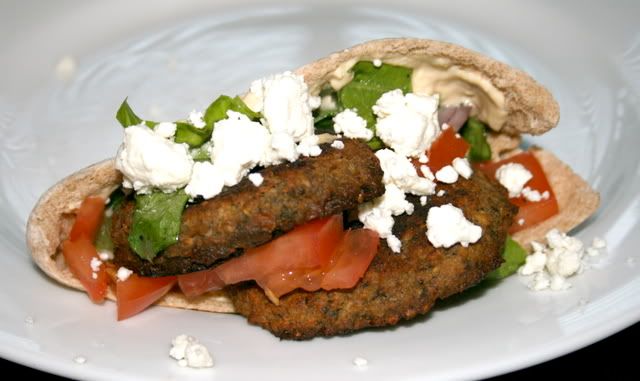 Not only that, but I also just put a 4 lb
beef roast
in the slow cooker for a family BBQ we're going to tomorrow, and a fabulously fragrant
almond cake
is baking in the oven as we speak. I was going to take it to the BBQ, but didn't realize what a small cake it is. Not nearly enough to take to a big family gathering, so Brad and I are going to sacrifice by just keeping the cake and devouring it ourselves. It wouldn't be fair to tempt a whole crowd with a tiny cake, would it? We're taking one for the team!
I really hope the
roast
turns out. I am decidedly NOT a fan of slow cookers, but my hands are tied for tomorrow. I have a baby shower to attend in the morning, for a friend from Japan, originally from the area but currently living in Seattle, who's expecting her first baby, and I wouldn't miss it for the world. But the BBQ starts at noon, and I'll be gone most of the day and won't be there till late, so instead of roasting it over 4 hours on top of the stove like I normally do, I'm going to slow cook it over night and all morning tomorrow, and it should be ready for noon. We'll see. I've been called out by Brad's uncle, who doesn't believe that this Yankee actually does make the best
roast beef po' boys
in the world, so I just really, really hope the slow cooker comes through for me.
Cross your fingers for me and my roast!